PLEASE USE OUR ONLINE STORE TO PAY FOR SPECIALTY CLASSES & EVENTS.
You will be "registered" and your name automatically added to the event's attendance list after you checkout. No need to print your receipt.
We accept PayPal only at this time. Tickets for some events can also be purchased on Eventbrite with your credit card.
Thankyou!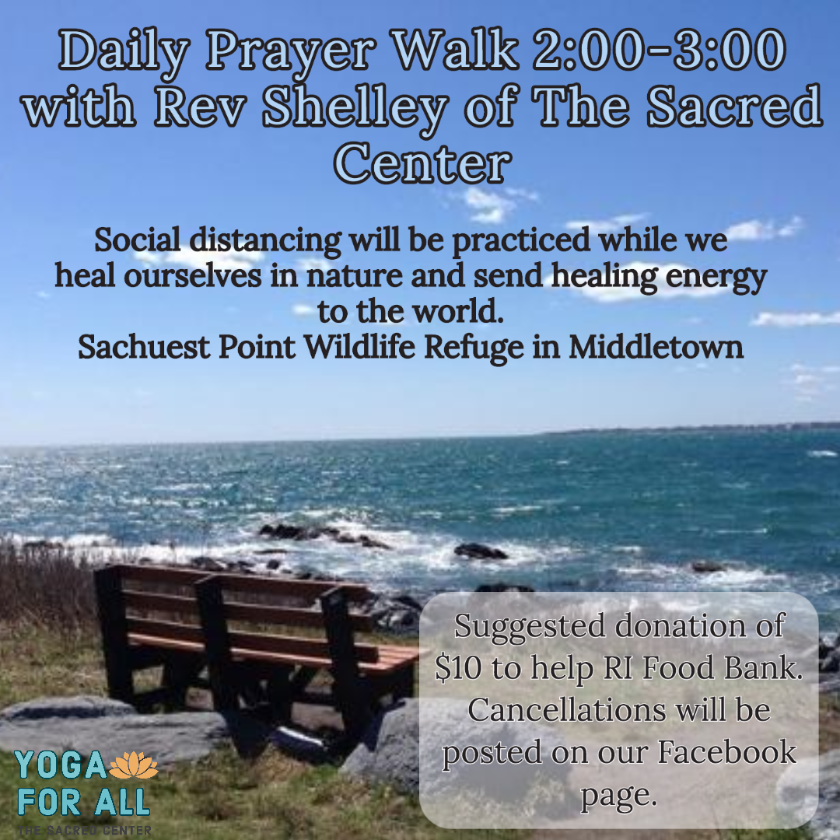 Daily Prayer Walk at Sachuest Point, 2 PM with Rev Shelley Dungan

We will practice "social distancing" as we receive the healing benefits of nature as long as it is permitted to gather. Please note: the bathrooms ave been closed at the Visitor's Center and sometimes the parking lot gets full. If you can arrive a little early, it is a good idea as you may need to park in the Second Beach parking lot and walk up Sachuest Road to the flagpole.

If you feel well and so inclined, please consider joining me at 2 PM for my daily prayer walk. We meet at the flagpole in front of the Visitor's Center at Sachuest Point Wildlife Refuge. We spend an hour or so together breathing, getting centered, reflecting, praying, walking the trail, talking with each other and soaking in Mother Nature's healing energy. Any questions about cancellations, or to indicate your interest in going, please use our FB page. Questions? yogishelley@sacred-center.org

The suggested donation is $10, to help support RI Food Bank.
COMING UP AT THE SACRED CENTER IN 2020
Hopefully Coming Up at TSC:
Save the dates in April & May:

~ Friday, April 3rd 6:00-7:30 PM Moving Toward The Light:An Evening of Gentle Yoga, Labyrinth Meditation & Song with Spiritual Directors Rev Shelley Dungan and Barbara Murray. Tickets $25 online or $30 at the door space permitting.
~ Monday, May 4th 7:00-9:00 PM An Evening of Sacred Song - Kirtan Concert - World renowned Brenda McMorrow, $25 tickets online, $30 at the door.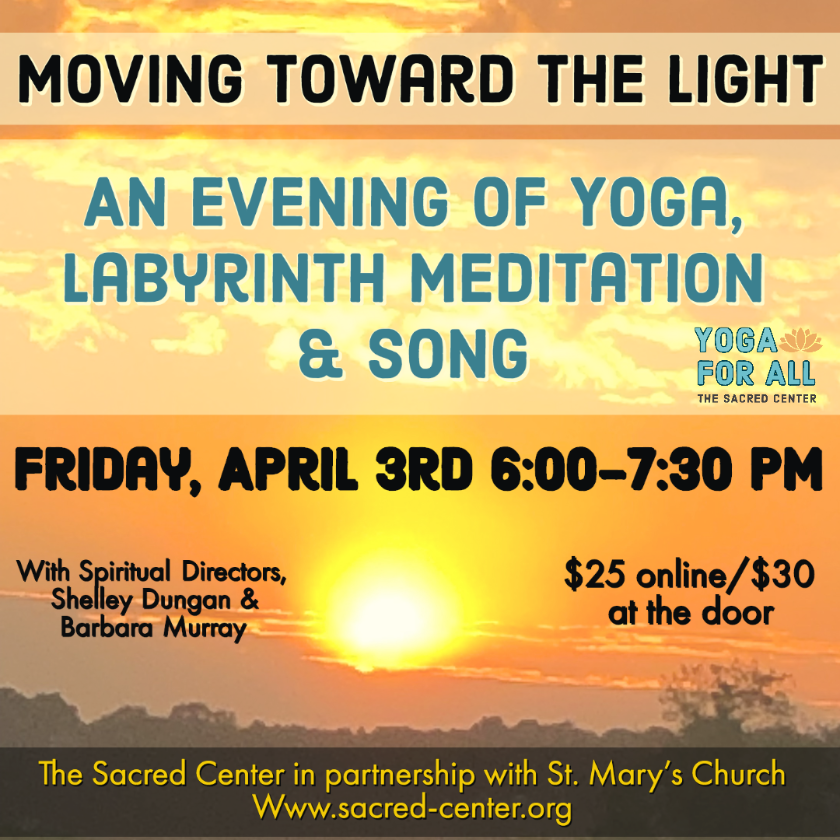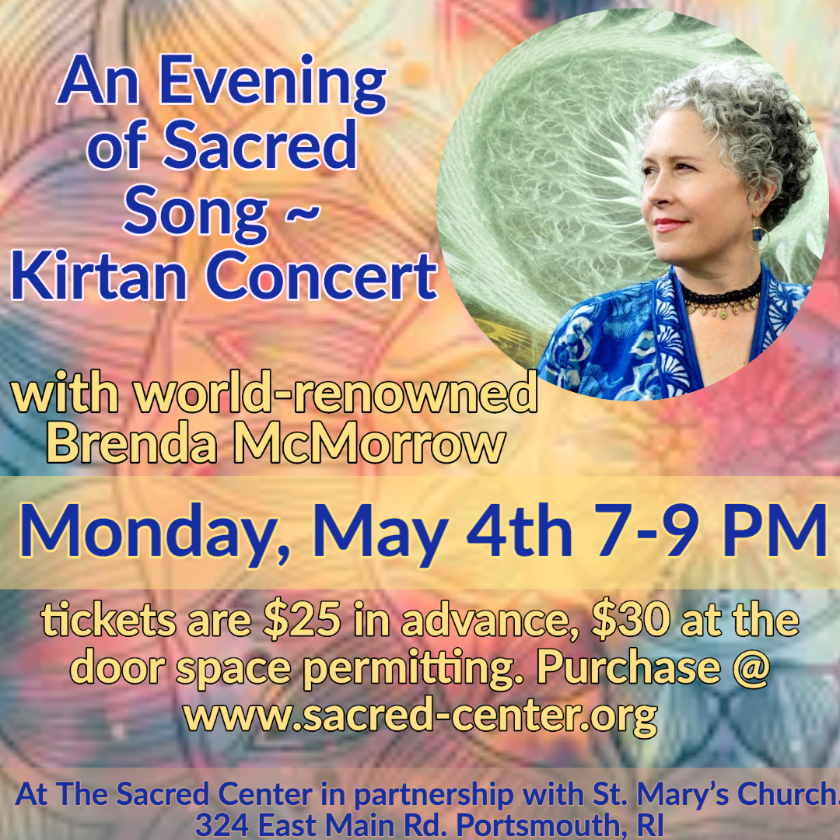 An Evening of Sacred Song ~ Kirtan Concert with world-renowned Brenda McMorrow.
Monday, May 4th 7-9 PM
Tickets are $25 @ www.sacred-center.org using Pay Pal or on Eventbrite with credit card or $30 at the door, space permitting
Hosted in our beautiful Chapel! The Sacred Center in partnership with St. Mary's Church. 324 East Main Rd, Portsmouth, RI.
Brenda McMorrow is a Devotional Kirtan (pronounced "Keer-than") artist who has had a rich and diverse musical career (from folk to jazz to bluegrass).
Now, with a deep love and recognition of the healing power of sound, she is invited to travel worldwide to share her unique blend of original,
folk-inspired melodies and sacred Indian devotional chants. Brenda is known for her unique and warmly embracing style of mantra music, a mix of acoustic folk,
world rhythms and ancient Indian mantras engagingly presented with a sweetly introspective singer-songwriter's sensibility. Yoga Journal describes Brenda as having "a knack for expressing the deepest realizations in the sparsest lyrics". As spiritual teacher Ram Dass has said: "Brenda has a gift", and her music has been touching people's hearts worldwide.
With 5 celebrated devotional chant albums, Brenda is a featured artist on the White Swan Records roster, a Colorado label well known for it's high-profile yoga-inspired artists like Deva Premal.
Brenda has been invited to Festivals and events across North and Latin America, Europe and Asia as part of her most recent tour schedule.
About Kirtan:Kirtan is a practice of Bhakti Yoga (the Yoga of Devotion). It is a participatory, call and response form of singing which is expanding throughout North America as westerners discover it's uplifting, healing and joyous effects. Open to participants of all religions or no religion at all, Kirtan is easy to learn and participate in. The lead singer sings simple and beautiful melodies and the crowd responds either by memory or by using lyric sheets provided. Kirtan is a beautiful opportunity for people to come together to open their hearts and chant the many names of the Divine. In Kirtan, the lines between musician and audience are blurred. The audience members play a vital role in the music through their singing, clapping, dancing and the transformative devotional energy that they each bring to the experience. Brenda explains, "Singing together– chanting the Divine names – encourages our hearts to open and the beauty of our true beings to shine!"
Find out more about Brenda at: www.brendamcmorrow.com
Gathering under the full moon provides us an opportunity to use the powerful astrological and divine energy to release burdens that no longer serve us while restoring the mind, body and soul.
This self-care class provides a meditative sound bath in conjunction with the full moon. Energy has been building during the moon phases, and the full moon is the time to release that energy. It is a time to unburden yourself in order to expand into your potential. In this meditation, we'll release those things that are standing in our way; the things that no longer serve us.
A 2,500 year old wellness practice. Meditation and Sound Therapy are tools to bring the mind, body and soul back to harmony and bring us to a state of peacefulness.