PLEASE USE OUR ONLINE STORE TO PAY FOR SPECIALTY CLASSES & EVENTS.
You will be "registered" and your name automatically added to the event's attendance list after you checkout. No need to print your receipt.
We accept PayPal only at this time. Tickets for some events can also be purchased on Eventbrite with your credit card.
Thankyou!
COMING UP AT THE SACRED CENTER IN 2020
~

Friday, Feb 14th, 6:00-8:00 PM

Valentines' Day Cacao, Yoga & Song, tickets $35 individual tickets, $60 per pair online.

~

Friday, Feb 21st 6:00-7:30 PM

, Cosmic Mantra Gentle Yoga with Karyn Chabot $20 online, $25 at door.

~

Friday, Feb 28th 6:00-7:30 PM

Classical Indian Music Sound Journey Concert – Srini & Ajit $20 tickets online, $25 at the door.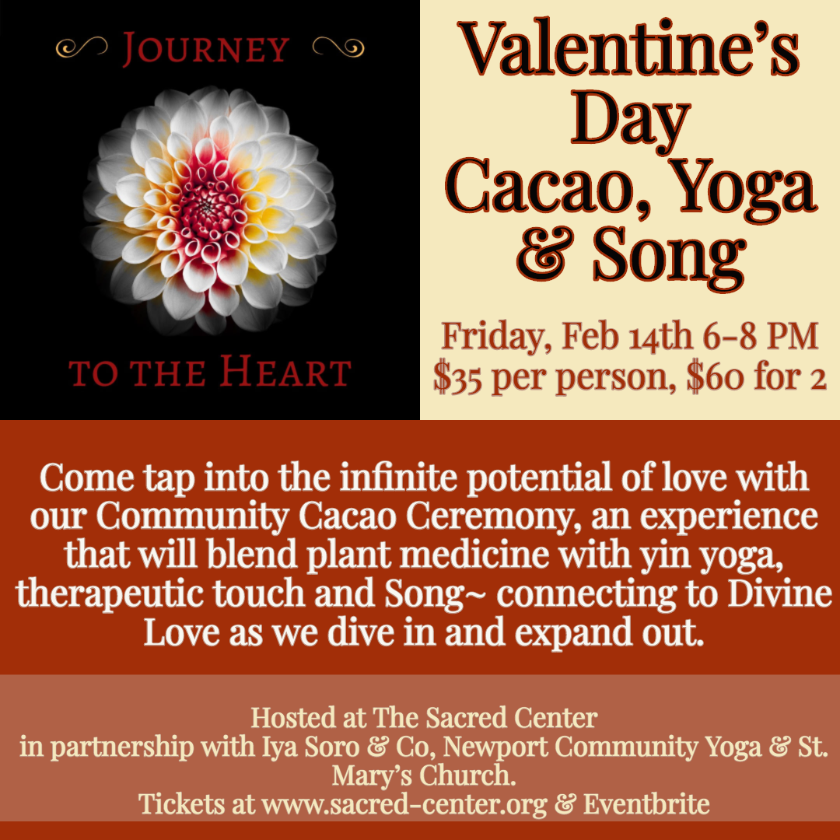 Valentine's Day Journey to the Heart
Friday, February 14, 2020 6:00-8:00 PM

with Iya Soro & Co, Emily Moyer of Newport Community Yoga & Rev Shelley Dungan of The Sacred Center

$35 per person, $60 per pair in advance - space is limited
Tickets at www.sacred-center.org & Eventbrite
Hosted at The Sacred Center in partnership with Newport Community Yoga & St. Mary's Church

Come tap into the infinite potential of love with our Community Cacao Ceremony, an experience that will blend plant medicine with yin yoga, therapeutic touch and Song~ connecting to Divine Love as we dive in and expand out

What is Cacao?
There is a reason we connect chocolate with Valentines day, Cacao (the raw pure form of cocoa) supports and opens the heart! Cacao supports and protects your cardiovascular system as a rich source of antioxidants, minerals, and alkaloids such as theobromine and anandamide. Theobromine stimulates your heart while dilating your blood vessels to regulate your blood pressure. Anandamide supports a sense of connection and bliss through activation of "happy hormones" like serotonin and dopamine.

This ceremony will introduce the concept of allyship with plant medicine of cacao to tap into heart space as we focus attention internally on your own individualized process through a sequence of yin poses paired with supportive therapeutic touch. As the ceremony develops we will expand connection outward, through yoga poses that are supported through collaboration with one another. Finally, we culminate communally with selected heart opening songs to open up the portal to great spirit. We will end the workshop feeling grateful, uplifted, and connected to our community.

Ceremony creates a sacred container for self-exploration and acceptance. Pairing these elements of cacao and ceremony with yoga, breath and sound magnifies a sense of vibrancy and wellness for the whole body-mind system. Plus- its fun!!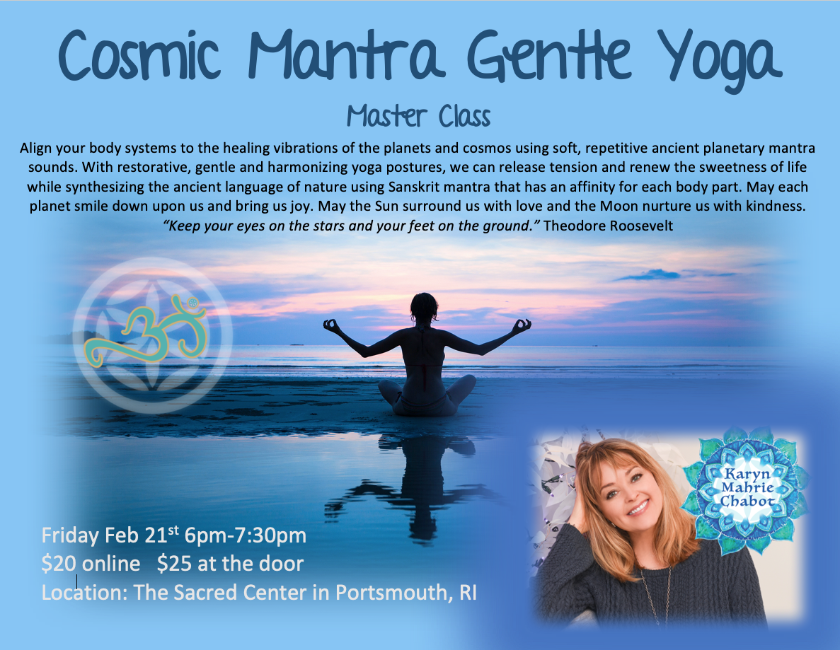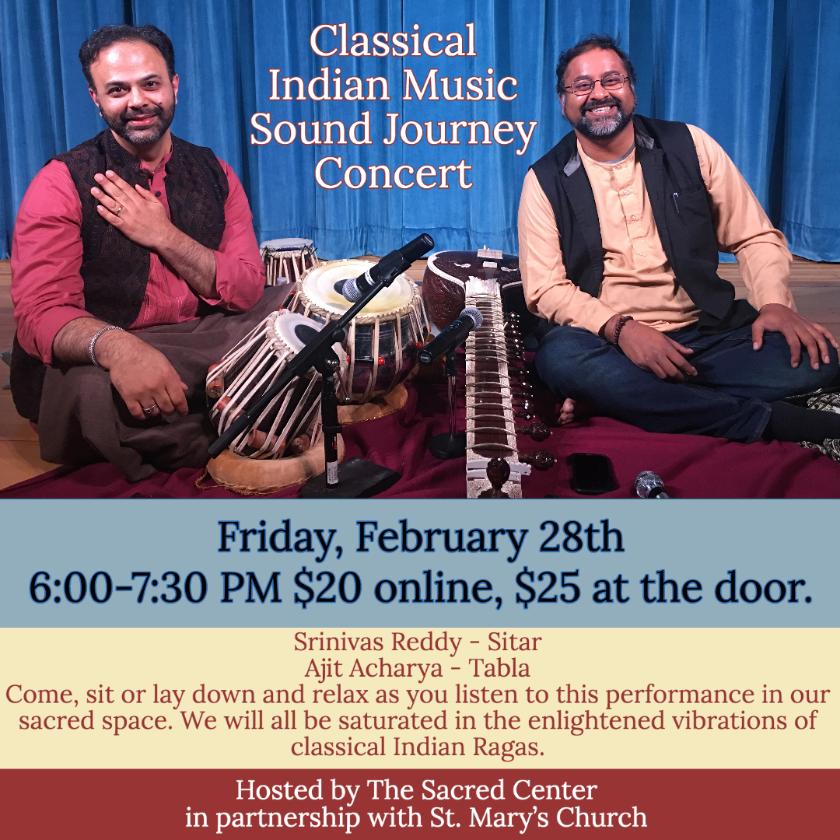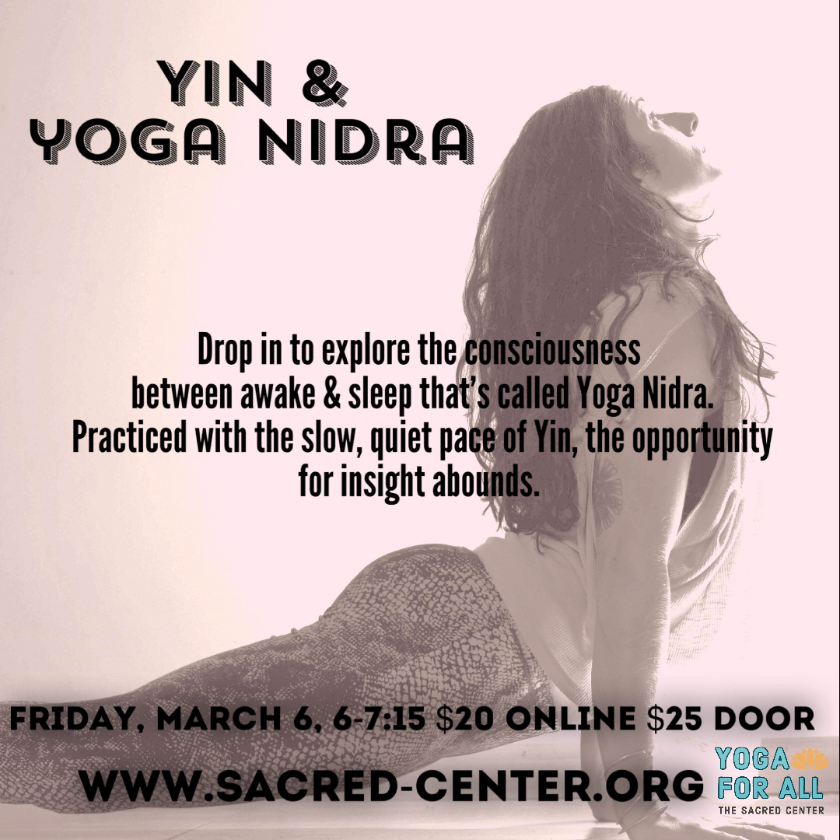 Yoga Nidra is often called "yogic sleep". It is best described as a consciousness between wake and sleep, a deep state of meditation. Guided awareness for the body is offered leading up to Savasana, after the practice of Yin.

Yin Yoga is intended to be a slow and quiet moving complement to the Nidra practice offering some work for both the physical body and contemplation for the heart & mind.

Drop into dynamic stillness followed by deep rest.​ Powerful and restorative.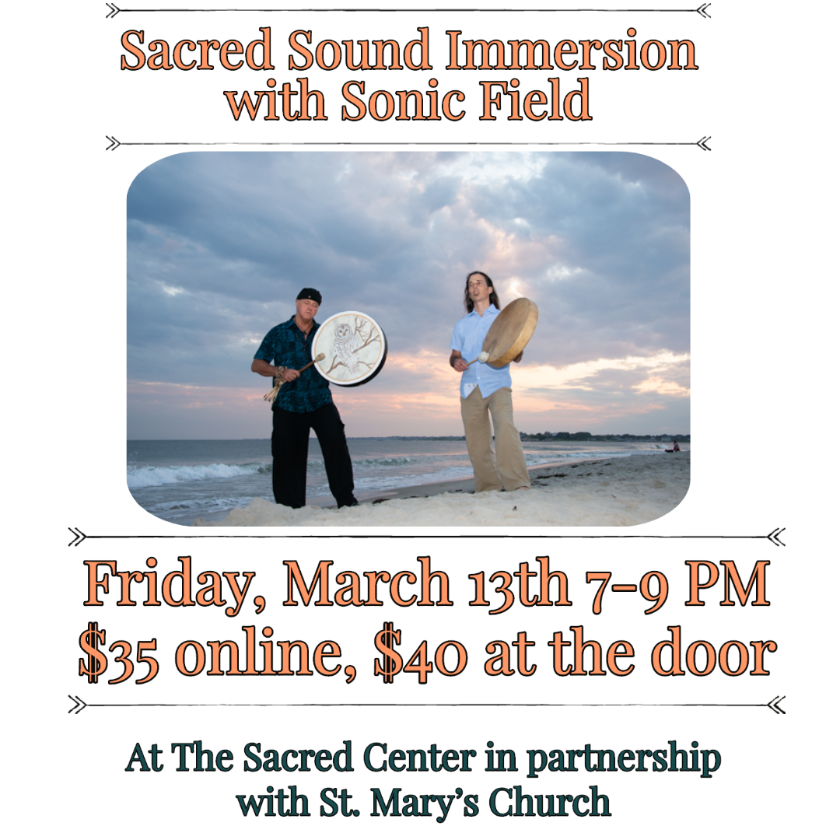 Sacred Sound Immersion with Sonic Field
Fri March 13th 7-9 PM
$35 tickets @ www.sacred-center.org

The power of Sacred Sound effects the mind, body and spirit on a deep, cellular level. The Immersive vibrational field created has been experienced by many as a vehicle to moving and releasing energy blocks, quieting the mind, thus promoting feelings of deep peace, clarity and well-being.

Jaime Allen Poyant and Alan Stonewolf, of Sonic Field, are pleased to bring their extensive and diverse gifts in the art of creating Sacred Sound to the Exquisite Healing Environment of The Sacred Center.

This experience will begin with Sonic Field creating a clear sacred space for you to plant the seeds of your intentions and allow the vibrational and tonal sounds to wash over you, as you relax your body, mind and spirit. A wide variety of sound healing instruments will be utilized during the session ranging from Native American style flute, drum and rattle, guitar, didgeridoo, bells, and more.

Next, Alan and Jaime will invite participants to join in a spirit guided group toning using drums and rattles provided by Sonic Field and voice (provided by you if you'd like) to fully integrate and celebrate the evenings energetic cultivation's.

Finally, we will bring the energy to a close by gathering, in full support of each others' intentions, to play a 36" Gathering Drum!

WHAT TO BRING:
*your intentions for healing/positive change
* a pillow and/or blanket to make yourself comfortable during the Sound Bath
* a drum and/or rattle if you have one

"Intention, coupled with sound, send powerful prayers into our lives, the lives of others, the world and the universe at large. Playing music from our heart space, we have the ability to transform and step-into our majestic selves with ease, joy and grace"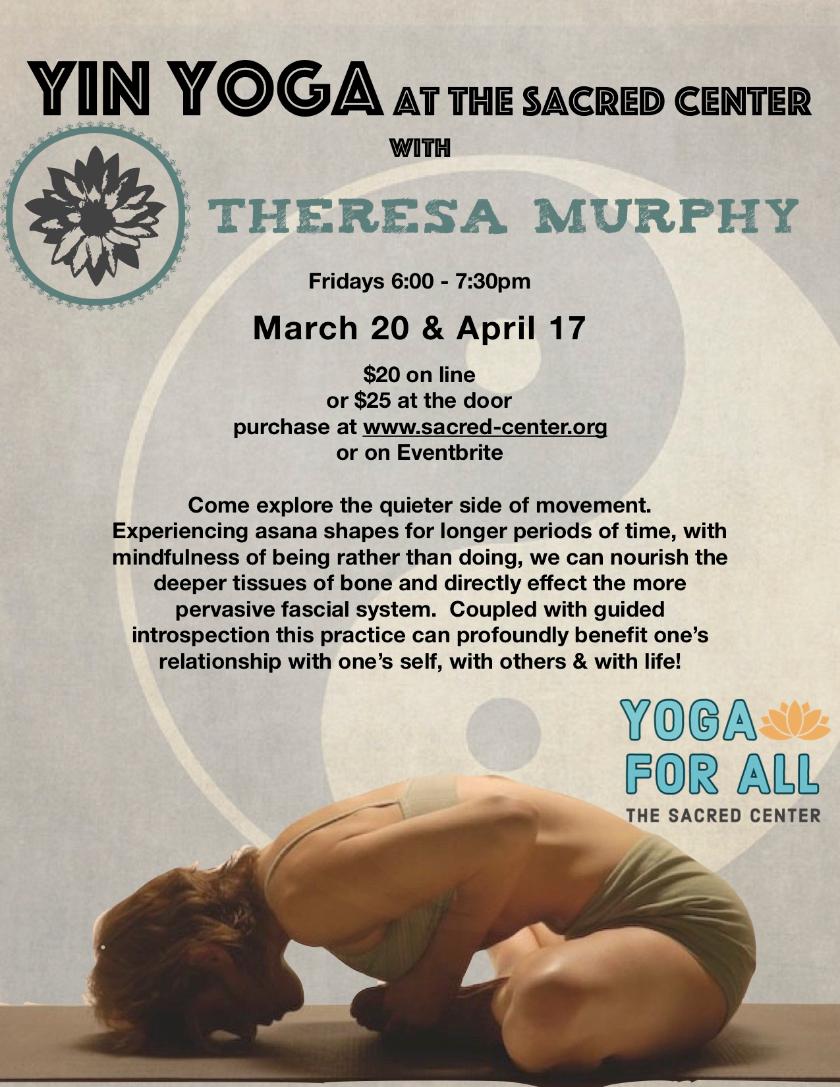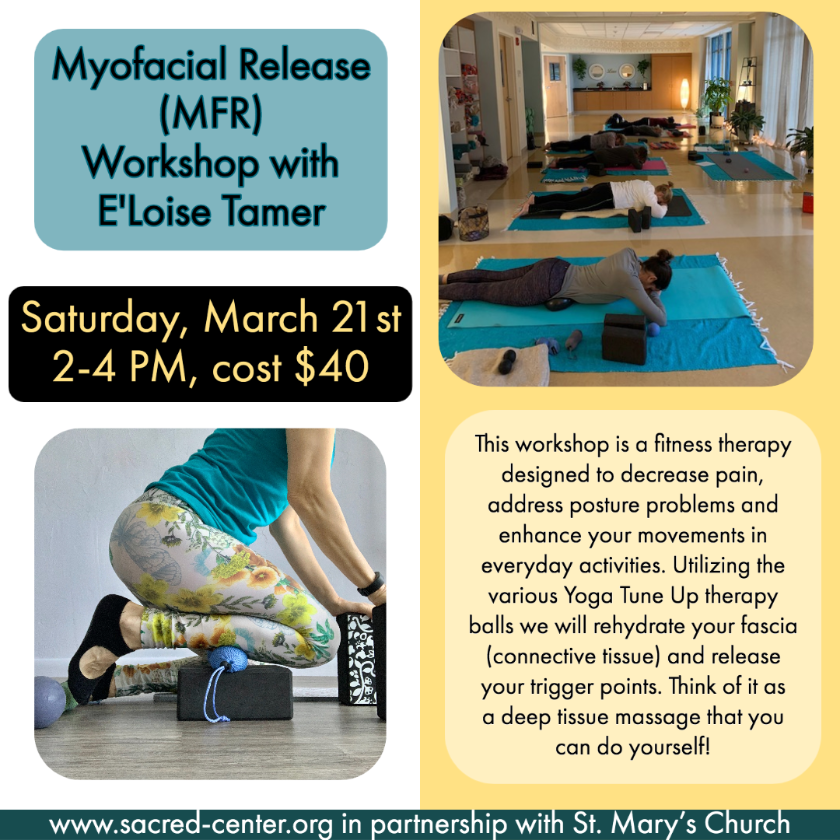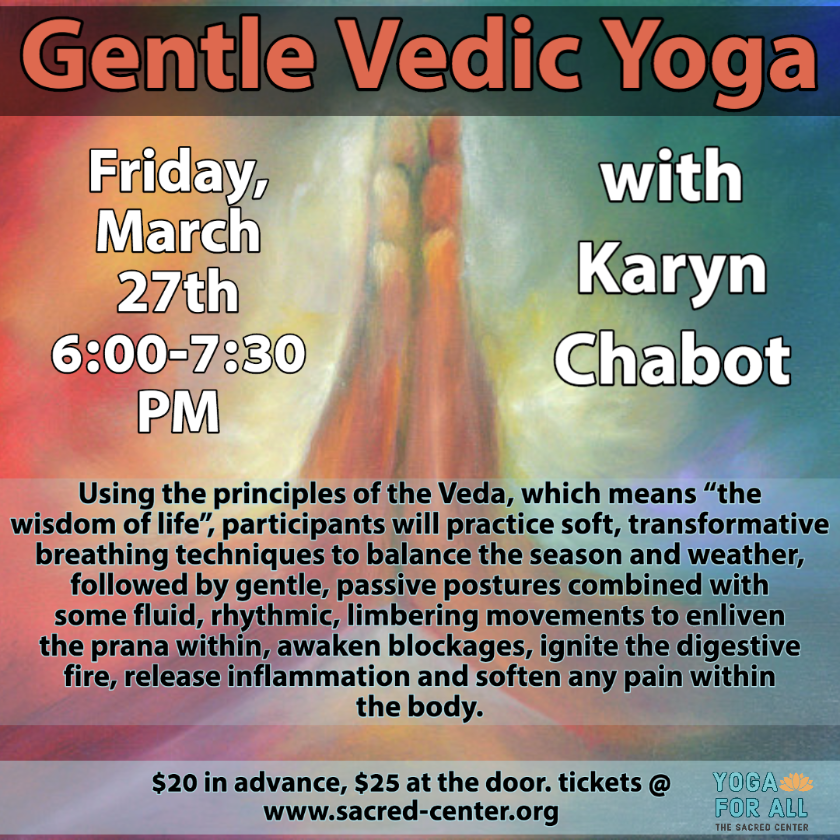 Using the principles of the Veda, which means "the wisdom of life", participants will practice soft, transformative breathing techniques to balance the season and weather, followed by gentle, passive postures combined with some fluid, rhythmic, limbering movements to enliven the prana within, awaken blockages, ignite the digestive fire, release inflammation and soften any pain within the body. Explore restorative and easy remedial sequences using blocks, straps, pillows and other props that will lead to the deepest rest and healing during the final moments of class. All levels of ability are welcomed.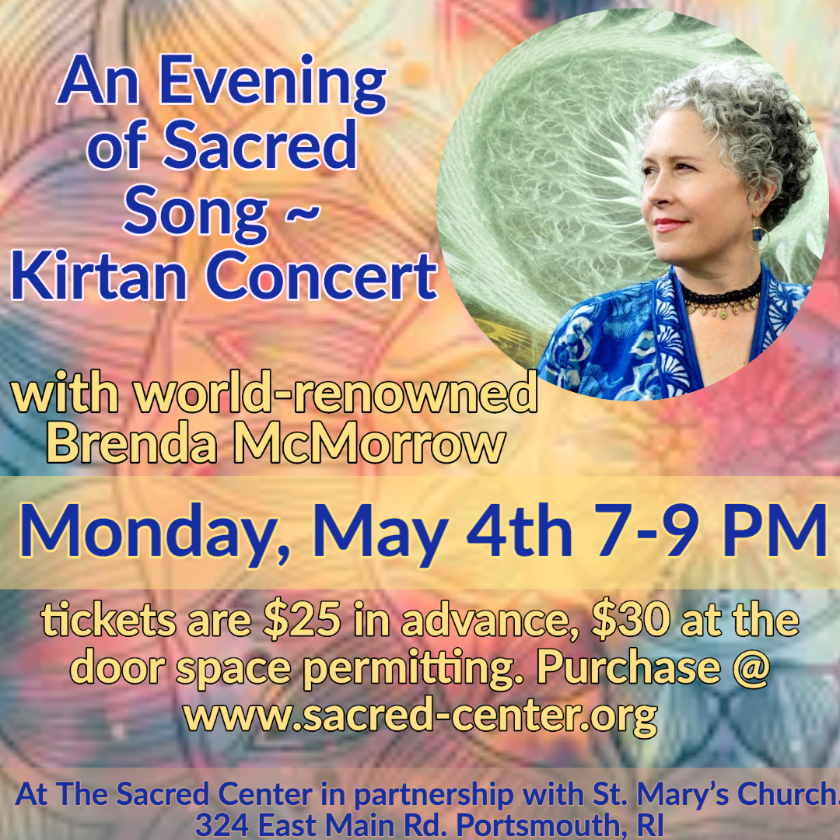 An Evening of Sacred Song ~ Kirtan Concert with world-renowned Brenda McMorrow.
Monday, May 4th 7-9 PM
Tickets are $25 @ www.sacred-center.org using Pay Pal or on Eventbrite with credit card or $30 at the door, space permitting
Hosted in our beautiful Chapel! The Sacred Center in partnership with St. Mary's Church. 324 East Main Rd, Portsmouth, RI.
Brenda McMorrow is a Devotional Kirtan (pronounced "Keer-than") artist who has had a rich and diverse musical career (from folk to jazz to bluegrass).
Now, with a deep love and recognition of the healing power of sound, she is invited to travel worldwide to share her unique blend of original,
folk-inspired melodies and sacred Indian devotional chants. Brenda is known for her unique and warmly embracing style of mantra music, a mix of acoustic folk,
world rhythms and ancient Indian mantras engagingly presented with a sweetly introspective singer-songwriter's sensibility. Yoga Journal describes Brenda as having "a knack for expressing the deepest realizations in the sparsest lyrics". As spiritual teacher Ram Dass has said: "Brenda has a gift", and her music has been touching people's hearts worldwide.
With 5 celebrated devotional chant albums, Brenda is a featured artist on the White Swan Records roster, a Colorado label well known for it's high-profile yoga-inspired artists like Deva Premal.
Brenda has been invited to Festivals and events across North and Latin America, Europe and Asia as part of her most recent tour schedule.
About Kirtan:Kirtan is a practice of Bhakti Yoga (the Yoga of Devotion). It is a participatory, call and response form of singing which is expanding throughout North America as westerners discover it's uplifting, healing and joyous effects. Open to participants of all religions or no religion at all, Kirtan is easy to learn and participate in. The lead singer sings simple and beautiful melodies and the crowd responds either by memory or by using lyric sheets provided. Kirtan is a beautiful opportunity for people to come together to open their hearts and chant the many names of the Divine. In Kirtan, the lines between musician and audience are blurred. The audience members play a vital role in the music through their singing, clapping, dancing and the transformative devotional energy that they each bring to the experience. Brenda explains, "Singing together– chanting the Divine names – encourages our hearts to open and the beauty of our true beings to shine!"
Find out more about Brenda at: www.brendamcmorrow.com
Gathering under the full moon provides us an opportunity to use the powerful astrological and divine energy to release burdens that no longer serve us while restoring the mind, body and soul.
This self-care class provides a meditative sound bath in conjunction with the full moon. Energy has been building during the moon phases, and the full moon is the time to release that energy. It is a time to unburden yourself in order to expand into your potential. In this meditation, we'll release those things that are standing in our way; the things that no longer serve us.
A 2,500 year old wellness practice. Meditation and Sound Therapy are tools to bring the mind, body and soul back to harmony and bring us to a state of peacefulness.