PLEASE USE OUR ONLINE STORE TO PAY FOR SPECIALTY CLASSES & EVENTS.
You will be "registered" and your name automatically added to the event's attendance list after you checkout. No need to print your receipt.
We accept PayPal only at this time. Thank you!
~
Wednesday, May 15th
6:00-7:15 PM
Free Sample Class - Flow & Restore
with Celia
~
Friday, May 17th
6:00-7:30 PM
Yin Yoga & Meditation
with Alicia
~
T
hursday, May 23rd
6:00-7:15 PM
Free Sample Class - Vinyasa Flow Yoga
with Rachael
~
Friday, May 24th
6:00-7:00 PM Partner Yoga with Shelley
~
Friday, May 31st
6:00-8:00 PM Journey Dance & Sound Bath by donation with Rosa
~
Tuesdays, June 4,11,18, 25
6:00-7:15 PM MOGA with Sara Emhof
~Friday, June 7th
6:00-8:00 Yin Yoga & Myofacial Release Therapy with Alicia Barry
~
Friday, June 14th
6:00-7:00 PM Partner Yoga with Shelley
~
Friday, June 21st
6:00-9:00 PM Summer Solstice Celebration for our TSC community!
~
Sunday, June 23rd
12:00-1:30 PM Lunch & Learn Summer Edition with Elyse
~
Sunday, June 30th
3:00-5:30 PM Cacao & Yin Workshop with Alicia and Nola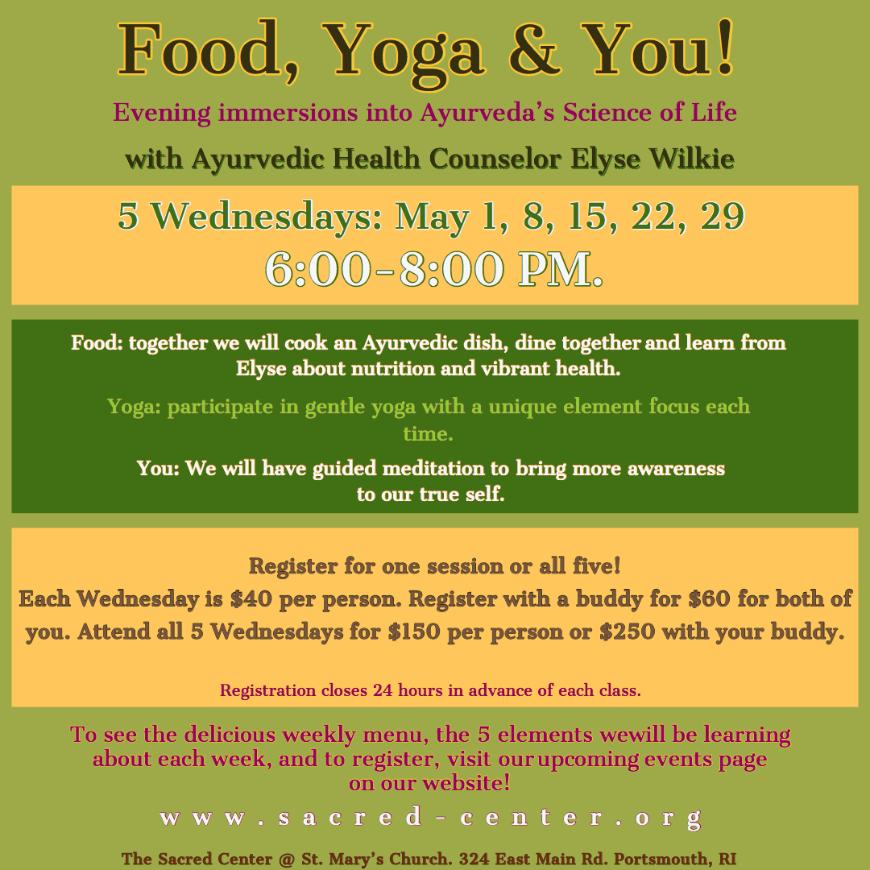 We will practice gentle yoga, be guided through life enhancing meditations, cook and eat delicious plant based foods while we learn from Elyse how to support vibrant health for the Spring season. Ayurveda has its roots in the tradition of yoga and is an ancient life style of self-care that produces great health and well-being on all levels.
Menu 5/1 Homemade Black Bean Hummus and Homemade Kale pesto for dipping Chapati (Buckwheat Flour Tortilla) *gluten free *vegan
5/8 Homemade Dosas (Rice and Bean pancake) with a rainbow of sautéed seasonal veggies with fresh herbs and spices *gluten free *vegan
5/15 Ayurvedic Pizza with Homemade Paneer (farmers cheese)
5/22 Roll Your Own Ayurvedic Sautéed Vegetable Sushi *Gluten Free *vegan
5/29 TBA!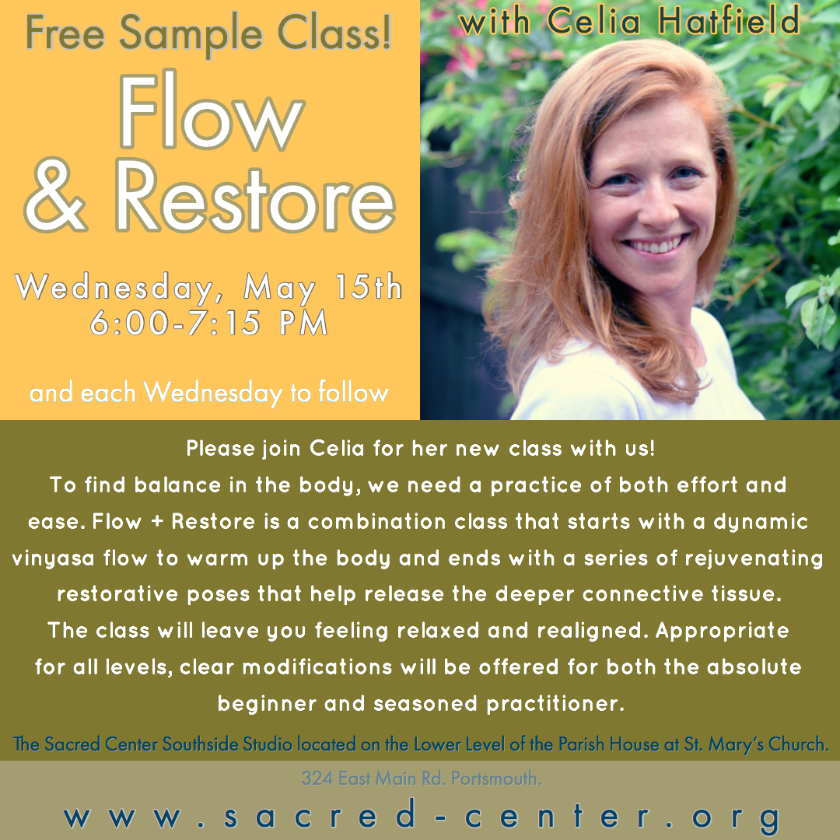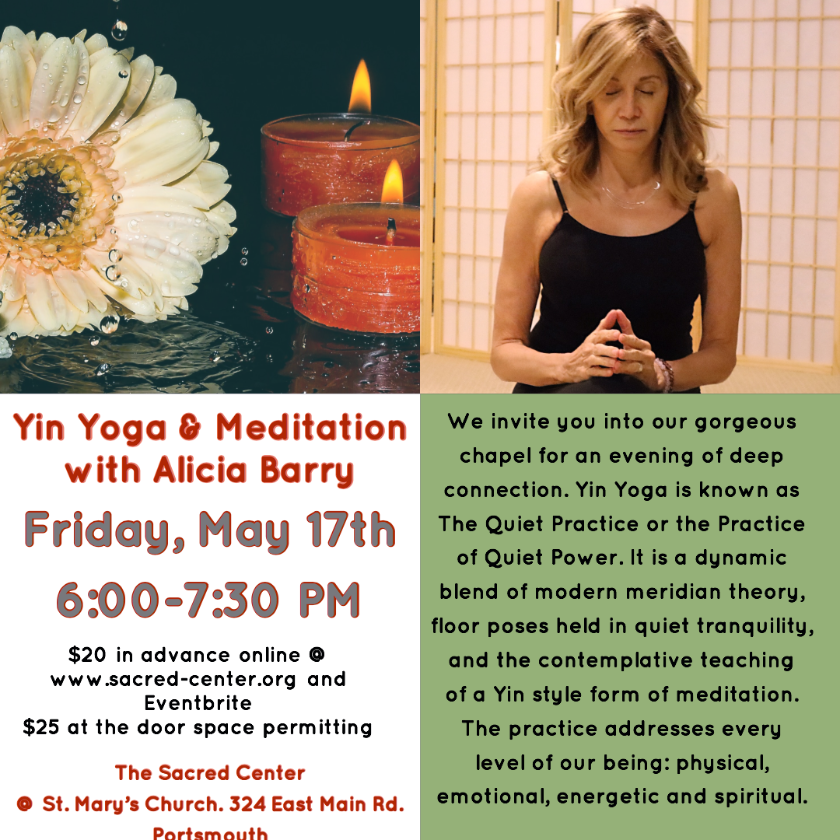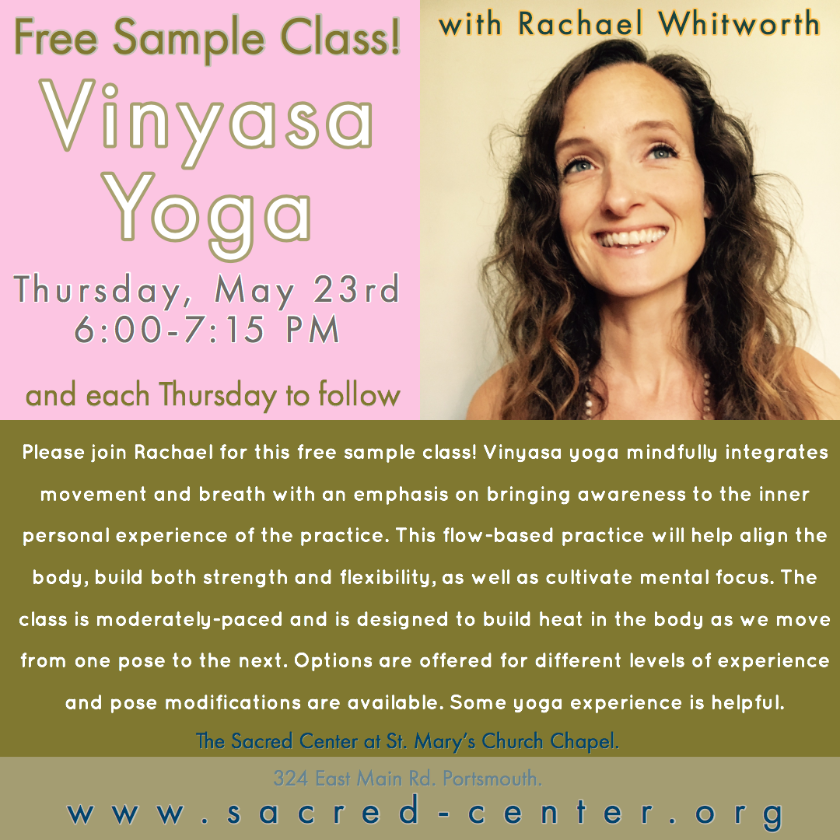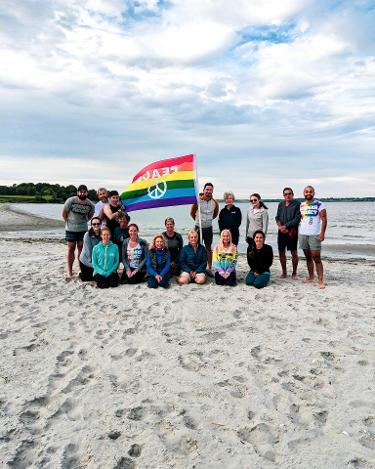 Friday, May 31st 6-7 PM Gentle Community Yoga onThird Beach
Newport Out Pride weekend kickoff!
Beloved ally, yoga instructor, and Director of The Sacred Center @ St. Mary's Church in Portsmouth. ( http://www.sacred-center.org/ ) Rev Shelley Dungan will be helping us kickoff Pride Weekend in Newport with a yoga class on the beach!!

The class is a suggested $10 donation, and all proceeds will go to The Trevor Project, the leading national organization providing crisis intervention and suicide prevention services to lesbian, gay, bisexual, transgender, queer & questioning (LGBTQ) young people under 25.

It is gentle community yoga - no yoga experience needed.

**We don't want anyone to feel turned away by cost...so please contribute what you can, whether $10, $20, or $0** Everyone is welcome.**

Please park in the small lot half way down the beach. No yoga mat needed...just bring a large blanket or sheet, hat, sunglasses, water, sweatshirt.