Summer 2022 June - Sept

Yoga for All at the Norman Bird Sanctuary:
Wednesdays and Saturdays 9:30-10:30 AM with Rev Shelley, mindfulness meditation led by Greg Sabatino offered most Saturdays immediately following yoga class from 10:45-11:15 AM.

Gentle Community Yoga on Third Beach:
Tuesdays 6-7 PM with Rev Shelley

Yoga for All at Common Fence Point Hall:
Mondays 6 PM in person and on live stream
Thursdays 9:30 AM in person and on live stream
Full Moon Yoga at the Norman Bird Sanctuary Series Dates:
Fri Aug 12th 7:15-8:45 PM
Fri Sept 9th 6:30-8:00 PM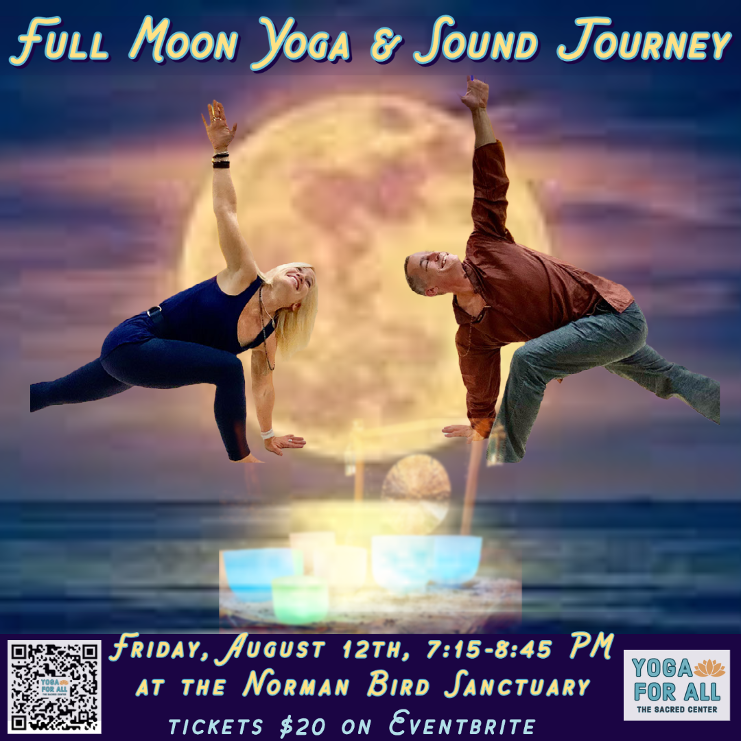 Join Interfaith Reverend & yoga teacher Shelley Dungan accompanied by scientist & musician Greg Sabatino for a wonderful outdoor contemplative experience. We will enjoy gathering on Mabel's lawn for a fire ritual, gentle yoga and a sound journey under the evening sky at the Norman Bird Sanctuary. We will stretch, breathe, relax and open ourselves to the healing and transformative influence of Mother Nature and the relaxing sounds of the crystal bowls, handpan, gongs and other sound bath instruments. Make your summer special by taking time to connect with your sacred center within. No yoga experience is needed.
Questions? yogishelley@sacred-center.org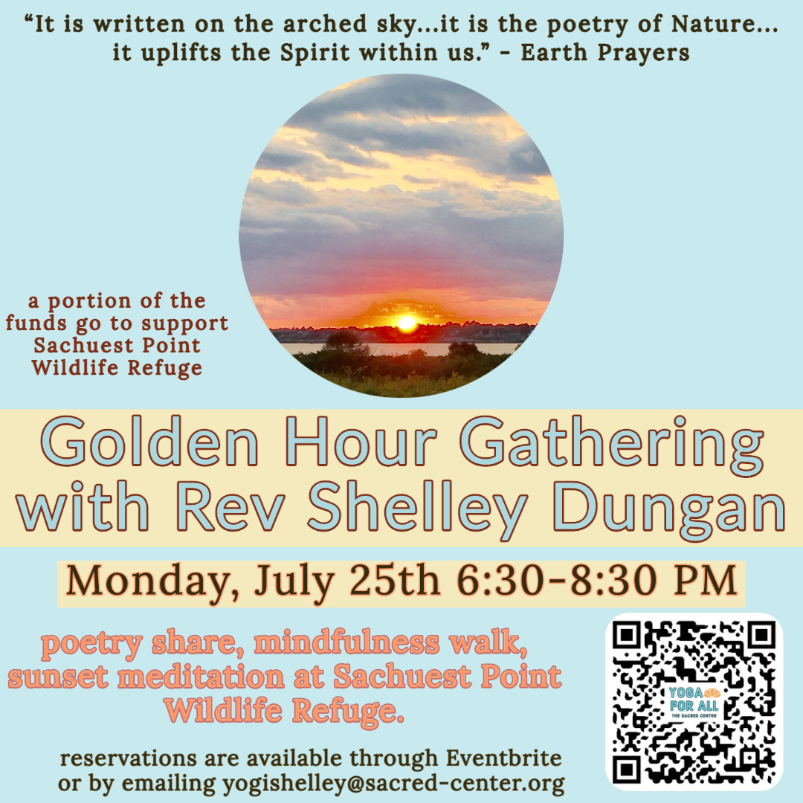 Golden Hour Gathering with Rev Shelley Dungan

Monday, July 25th 6:30-8:30 PM
Sachuest Point Wildlife Refuge, Middletown, RI
Join Interfaith Reverend Shelley Dungan for a time of connection, contemplation, movement and meditation.
6:30-7 we will gather on the lawn in front of the visitor center and have a poetry share (feel free to bring a short nature poem or quote and a chair or blanket)
7:00-8:00 we will take a mindfulness walk around the trails with pauses along the way to take in the beauty (please wear sturdy footwear and bug spray)
8:00 we will gather back on the lawn for a sunset meditation and closing prayer.
*please note that the public restrooms close at 6:30 PM.
* you are welcome to participate in any or all 3 parts of this gathering, time your arrival accordingly.
*offered by donation, a portion of which goes to support the work of Sachuest Point Wildlife Refuge.