WELCOME TO THE SACRED CENTER
hosted at St. Mary's Episcopal Church Parish House
324 East Main Rd, Portsmouth, RI 02871
We are an inclusive interfaith center for wellbeing in Portsmouth! We offer yoga for all ages and abilities, retreats, dance, spiritual discovery groups, support groups, workshops and much more in a beautiful space welcoming all people, all genders, all bodies.
Please scroll down to see our schedule. We hope you see this new comprehensive class schedule as a series of "invitations" to step away from your busy life and find support on your journey. Here you will be welcomed into our atmosphere of kindness, love and acceptance.
~Come, let's grow together~
Peace be with you, Reverend Shelley Dungan
NOTICES:
COMING UP
Wednesdays, November 28- Dec 19th, 4:00-5:00 PM Family Yoga 4 week session begins with Jenny
Fridays November 30 & December 14th7:00-8:00 PM JourneyDance with Jennifer
Friday, December 7th 6:00-8:00 PM Restorative Yoga & Massage with Shannon SOLD OUT!
Sunday, December 16th 4:00-5:30 PM Yin Yoga by Candlelight with Alicia Barry
Friday, December 21st 6:00-7:30 PM Winter Solstice Slow Down co-led by Shelley & Shannon
December 23 – 25 TSC is closed. Please join us for one of the church services at St. Mary's Episcopal church
January 1st 9:00-10:15 AM Intention setting for 2019 as we Ring in the New Year -Gentle Yoga with Kate
Tuesday, January 9th 6:00-8:00 PM new session of Women's Discovery Book Group begins led by Rev Shelley
Yoga class gift cards are available for purchase in our online store.
The Sacred Center One Year Anniversary Celebration!
We thank Jennifer for the inspiring JourneyDance. We thank Rosie for the relaxing sound journey and we thank all who were at the Center last night including those who were with us in spirit!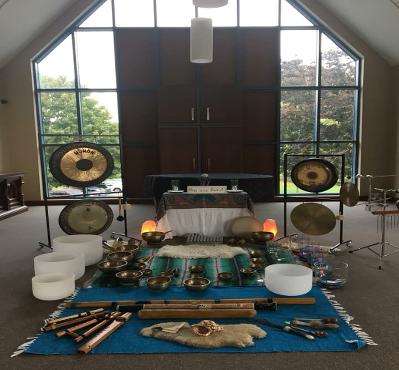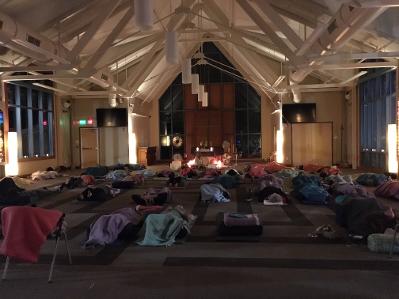 Fun times on the mat - Partner Yoga Fundraiser & Family Yoga