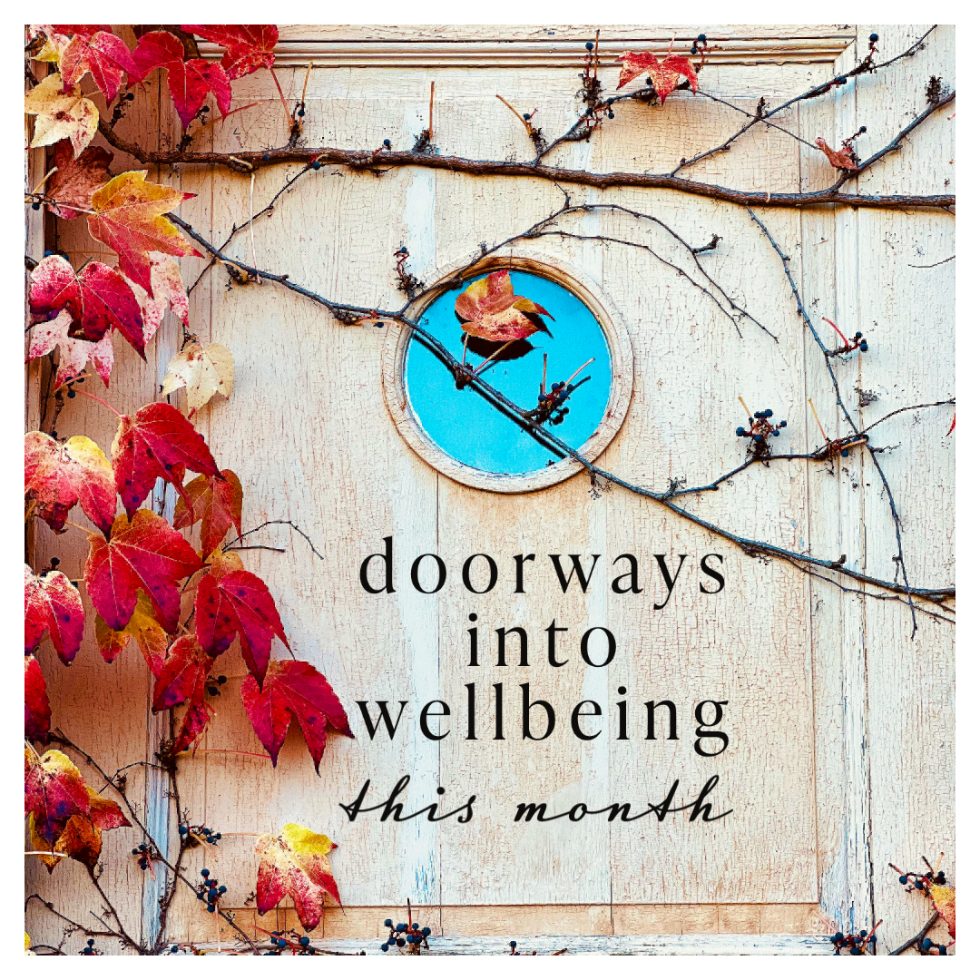 November 2022
Dear Friends & Yogis,
November greetings to you all!
My heart is full from the time in practice I have had with so many of you lately. On a monthly basis I am at 4 different venues and each one has it's own special energy. I am especially enjoying the "sharing circle" that happens after many of our classes where we get the opportunity to simply bring voice to how our practice impacts our life and how our life impacts our practice. One student commented on how rare it is to be given the chance to share and integrate after a yoga class. Typically everyone just rolls up their mat and goes home, smiling of course. I hope to continue to create sacred, loving space wherever I teach, with the hope that I can help you open the "door" gently and compassionately through movement, breath and conversation.

I took the photo above of a lovely doorway I saw at the Glen Manor House while taking a hike with some women from our book group. It invited me to contemplate the metaphor of a "doorway" from many perspectives. I thought about how breath unlocks the door into the rich and fascinating realm of the inner life. It provided a chance to ask myself, "Is something or someone knocking at the door of my heart?" "What kind of support do I need to answer?" "Can I trust that I have the strength and grace to greet whatever is on the other side?" If this resonates with you, I hope to see you in class soon and you can share with me what doorways into wellbeing you are finding. Please scroll down for the November Schedule.

I send you all prayers for peace,
health & happiness now and always.
Namaste, Rev Shelley

NOVEMBER SPECIAL EVENTS:
Monthly Prayerful Gentle Yoga at OceanPointe Christian Church,
Monday Nov 7th, 6-7:15 PM drop-in. Pay-what-you-wish suggested range $10-$20. For your convenience you can register on Eventbrite. Please bring your mat, blanket and pillow/cushion.

Monthly Gentle Yoga & Sacred Sounds at Common Fence Point Hall,
Sunday, Nov 20th, 6-7:30 PM. Please scroll down for $20 ticket link on Eventbrite. This class is planned for the THIRD SUNDAY OF EACH MONTH.

WEEKLY CLASSES:
Wednesdays 7-8:15 PM WEEKLY ONGOING - Join me at the centrally located Innerlight Yoga Studio on Aquidneck Ave for a contemplative, deep dive, gentle yin practice. $15 Tickets are needed via the Eventbrite link above. If you cannot purchase through Eventbrite for any reason, please let me know and I will reserve a place for you in class. No yoga experience is needed. Please bring your mat and blanket. Below are some photos to guide you to the entrance of the studio in case you have not been there before. It is a special space and located on the second floor.

Thursdays 9:30-10:45 AM WEEKLY ONGOING - Yoga for All at Common Fence Point Community Hall. This is a fun-loving group of yogis who welcome all. Drop-in, no registration. Pay-what-you-wish suggested range $10-$20. Free on Livestream following the link on our website. Please bring your mat and blanket.

Saturdays 9:30-10:45 AM WEEKLY ONGOING - hiking and gentle yoga at the glorious Norman Bird Sanctuary. Come dressed in layers and sturdy footwear to hike followed by yoga on the lawn if it is warm enough or in the historic barn if it is wet or chilly. If it is raining, we will have yoga only in the barn at 9:30. We meet in front of the Visitor's Center. Drop-in, no registration needed. Pay-what-you-wish suggested range $10-$20. For your convenience, you can register on Eventbrite. Please bring your mat and blanket.

Note: I welcome you to call or text me (860-965-9995), or email me with any questions you may have, especially since we have 4 locations and a blend of 3 weekly and 2 monthly classes!

The quote below from the Network for Grateful Living expresses one of the blessings of spending time immersed in positive energy. May all who come to our classes and events find themselves in good company!