JUNE 2022
Dear Friends & Yogis,
Happy May greetings to you all! I am guessing you are increasingly looking forward to gathering outdoors for yoga, connection and contemplation with us...We are certainly getting excited as we are about a month away. Above you can see our 2 beautiful outdoor venues...Third Beach and the Norman Bird Sanctuary, both here in Middletown.

Below is our prospective weekly Summer outdoor yoga class schedule.
These classes are planned to be in addition to Mondays 6 PM and Thursdays 9:30 AM in person at Common Fence Point Community Center (CFP) provided attendance stays strong at these indoor classes.

* Please note the weekly outdoor classes at Norman Bird Sanctuary (NBS) and Third Beach will have a
new pricing structure called
PAY WHAT YOU WISH (PWYW)
This means you choose your price, ranging from $10-$20 per class, depending on your ability to pay at the time.

*It is important for you to know that a portion of every dollar collected goes to support the Norman Bird Sanctuary and Clean Ocean Access.

*Scholarships are available for those who want to practice yoga but have financial barriers. For more info please contact Rev Shelley.

* Summer weekly outdoor classes are offered on a cash-only, drop-in basis (no pre-registration) and no proof of vaccination will be required.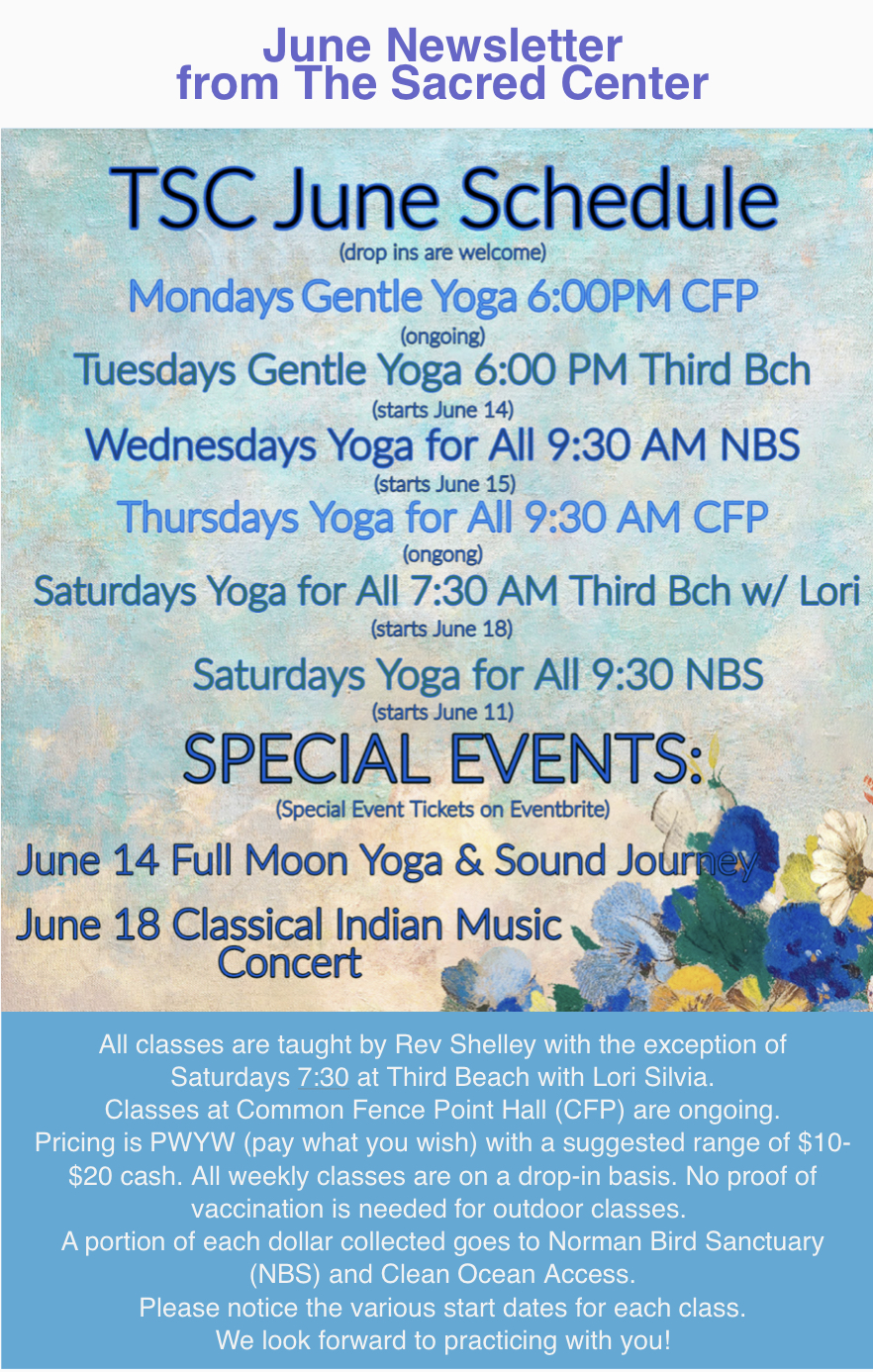 Full Moon Yoga at the Norman Bird Sanctuary:
Full Moon Yoga Summer Series - save the dates!
Tue, June 14th 7:45-9:15 PM
Wed July 13th 7:45-9:15 PM
Fri Aug 12th 7:15-8:45 PM
Fri Sept 9th 6:30-8:00 PM
*Tickets for these special evenings will be available for $20 on Eventbrite in a few weeks.

Pop-Up Mindfulness Prayer Walks with Rev Shelley
These are contemplative, 1 hour community walks along some of the beautiful pathways on our island with stops for the practice of silence, sacred listening, uplifting readings and prayers for well-being. These walks will be announced 24-48 hours ahead via email, posts on Facebook and Instagram. They will be offered for a suggested donation of $10. If you would like to suggest a location for one of these walks where parking is easy,
feel free to email me.


This month I continue the same 2 steady weekly yoga class at Common Fence Point Hall, Mondays Gentle Yoga @ 6PM (often we have Greg opening class with a mindfulness breath practice as well as playing the crystal bowls during Savasana) and Thursdays Yoga for All @ 9:30AM. We can easily hold 30+ students at CFP so there is still no need to register for classes. You can drop in for $10 and proof of vaccination or participate for free via livestream (donations welcomed) by clicking the blue button located right on our homepage. Please note, the link will now take you to CFP's livestream page. Those coming to class in person, please be sure to bring your own yoga mat and 1 or 2 blankets.