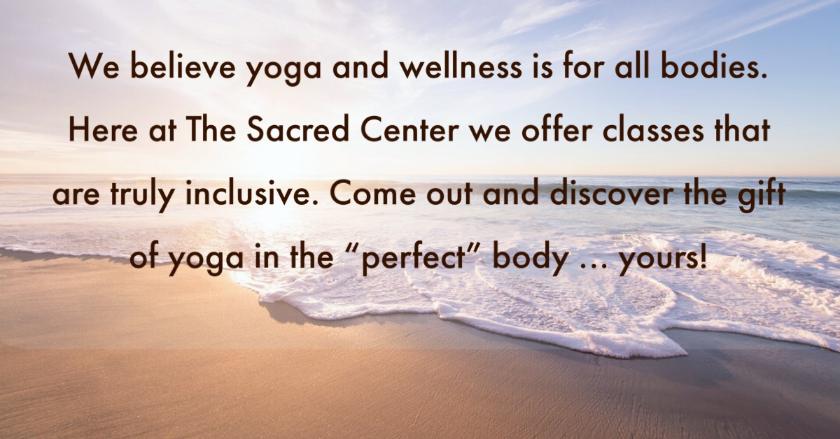 CLASS DESCRIPTIONS
the number 1 or 2 indicates relative intensity level of the class
GENTLE YOGA (1) Come experience slow-paced, gentle movement blended with meditation and inspired readings. This class will help you release physical tension and mental stress while fostering flexibility and deep relaxation. Most of the time is spent down on the mat using supportive blankets, blocks, bolsters and straps. You will leave feeling centered, calm, peaceful and bathed in Divine Love. Well suited for those new to yoga, those who are low on energy and those with minor physical limitations. No yoga experience needed.
GENTLE YIN YOGA W/ REIKI (1) A beautiful complement to more active yoga and suitable for many levels, Gentle Yin and Reiki is a practice of seated and reclined poses that invite you to be with and observe sensations and responses of body and mind. Release physical, emotional, energetic and spiritual blockages creating a calm, free flow of energy. Find healing, strength and overall well-being. Make this your practice to begin or advance your yoga journey.
GENTLE YIN/YANG W/ REIKI (1/2) We will begin with a warm-up of gentle yin through lightly held seated and reclined poses. Rise to a simple yang flow of basic standing poses to build strength and balance. Then ease our way back to the mat to restore and renew. Suitable for beginner and advanced levels. (For more about gentle yin, please refer to the gentle yin description above.)
CHAIR YOGA (1) This is the perfect class for beginners and those seeking more confidence in their yoga practice. Using a chair enables you to safely learn and explore alignment, balance and movement of the body in various seated and standing yoga poses. These movements, combined with breathing and meditation techniques, help you energize, strengthen and relax both body and mind. Students with physical limitations are encouraged to come!
QIGONG (1) Qigong is a mind-body practice that ignites our internal healing capacity. Included are gentle movements, breath practice, self-applied massage and meditation. Can be done standing or seated in a chair.
SLOW FLOW (2) In this class students will flow mindfully through a variety of postures designed to build flexibility and internal heat at a slow, steady pace. Class then cools down with Restorative Yoga postures, which settle the body and mind. Ample modifications will be offered to make the class accessible and fun.
JOURNEY DANCE (1) A one hour journey of guided movement, intention, community fun and healing. Led by Rev Jennifer Pedrick. All ages welcome and no dance skill is needed.
YOGA BALANCE (1) This gentle class is based on structural posture alignment and mobility of spine and joints through yoga poses and breath work. Student's will use a variety of props including a chair in order to learn key poses to build strength, balance, flexibility and feel secure while doing so. Through detailed cues and descriptive encouragement this class can be used to advance into other classes.Students leave centered, energized and better equipped to enjoy everyday activities.
HATHA FLOW (2) This class will get you moving with gentle stretching to wake up the body. Moving into postures with focus on breath and alignment through a gentle flow. You can expect a circuit of the body's full range of motion with basic standing postures, twists, back bending, forward folding, and hip openers, followed with restorative relaxation. This Ha(Sun) Tha(moon) practice is designed to align and calm your body, mind and spirit.
KIDS YOGA - *ages 3-5. A creative time for children and their caregivers to use the imagination through yoga movements, songs, and dance. In these creative and fun ways, the children are beginning to link how their breath feels in the body, helping them to be able to freely express themselves and their emotions with skillful guidance.
PRENATAL YOGA - *Open for any woman who has entered her 2nd trimester. A gentle and soothing time to support your self and baby by easing the mind and body throughout your pregnancy. Each class begins with prenatal breath work, allowing the mother to bring awareness to the power of her breath as a direct link to the baby. Prenatal yoga is designed to strengthen the pelvic floor, bring ease to the spine, and create suppleness in the hips; all allowing for a greater sense of well-being and relaxation. PLEASE Speak with your midwife or OB/GYN for clearance to participate.
INTEGRATIVE YOGA (1/2)- Bring all parts of yourself together in this all-levels yoga class that is equal parts active and restful. Flow, restore, heal and nurture in a hybrid yoga sequence that draws upon the wisdom of yoga in combination with traditional Chinese medicine (Qi Gong and meridian theory), with other healing modalities woven in naturally. Expect a thoughtful sequence geared around one energy center (chakra) or line of energy (meridian) that recharges and replenishes your reserves through strength-building and mindful rest.
VINYASA FLOWYOGA (2) - Vinyasa mindfully integrates movement and breath with an emphasis on bringing awareness to the inner personal experience of the practice. This flow-based practice will help align the body, build both strength and flexibility, as well as cultivate mental focus. The class is moderately paced and is designed to build heat in the body as we move from one pose to the next. Options are offered for different levels of experience and pose modifications are available. Some yoga experience is helpful.