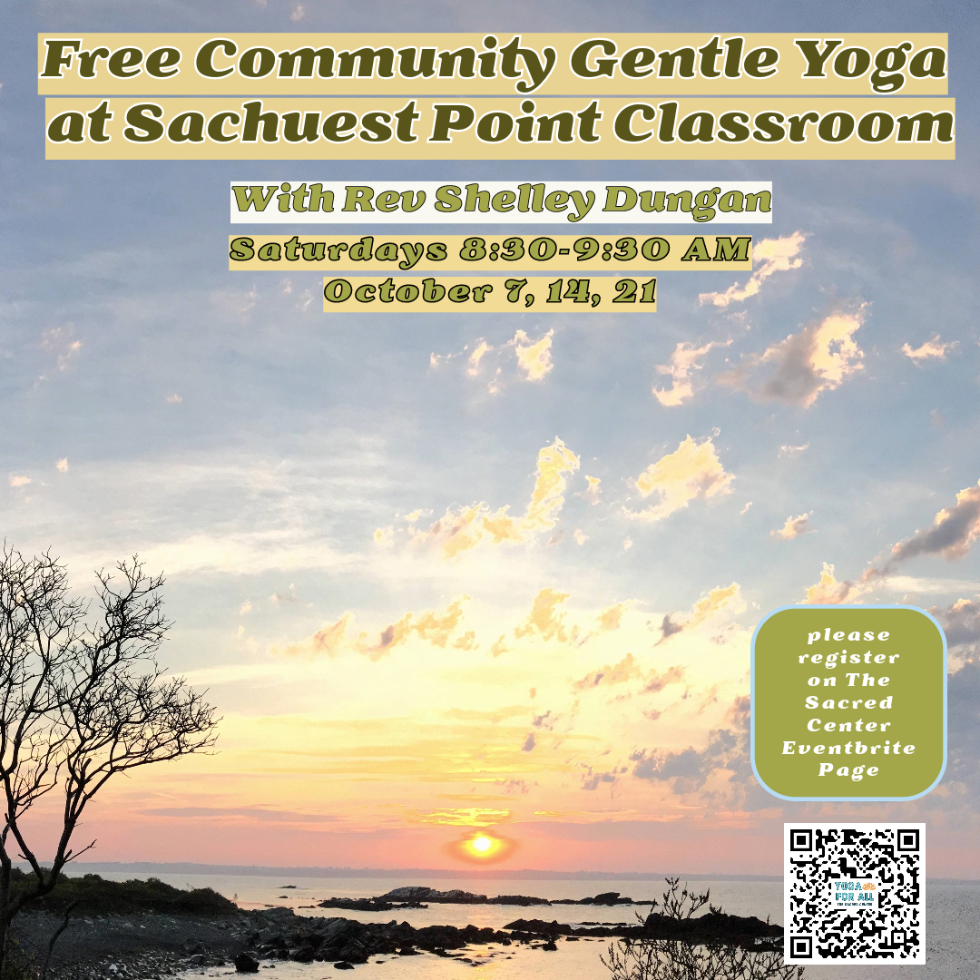 Free Community Gentle Yoga with Rev Shelley Dungan at Sachuest Point
Saturdays October 7, 14, 21
8:30-9:30 AM
The Community is invited to a series of free 1 hour long gentle yoga classes led by Interfaith Reverend and yoga instructor, Shelley Dungan. These classes are beginner-friendly, designed to be easily accessible for folks of all ages, regardless of yoga experience. Indoor space at the Visitor Center is limited to 15 students so please register for free on The Sacred Center's Eventbrite page. You will need to bring a yoga mat and a blanket.
Questions? contact Rev Shelley @ yogishelley@sacred-center.org

Community Stroll & Stretch with Rev Shelley Dungan at Norman Bird Sanctuary
Saturdays October 7, 14, 21
10:15-11:45 AM
Nature lovers, yoga lovers, those wanting to connect with other mindful folks are invited to attend. We will gather in front of the Norman Bird Sanctuary Visitor Center and take a group stroll along various trails with a few mindfulness stops along the way. Then we will enjoy some gentle yoga stretches. Register on Eventbrite or drop in. Suggested donation is $15. Please wear sturdy footwear, dress for the weather and bring a blanket and yoga mat.
Questions? contact Rev Shelley @ yogishelley@sacred-center.org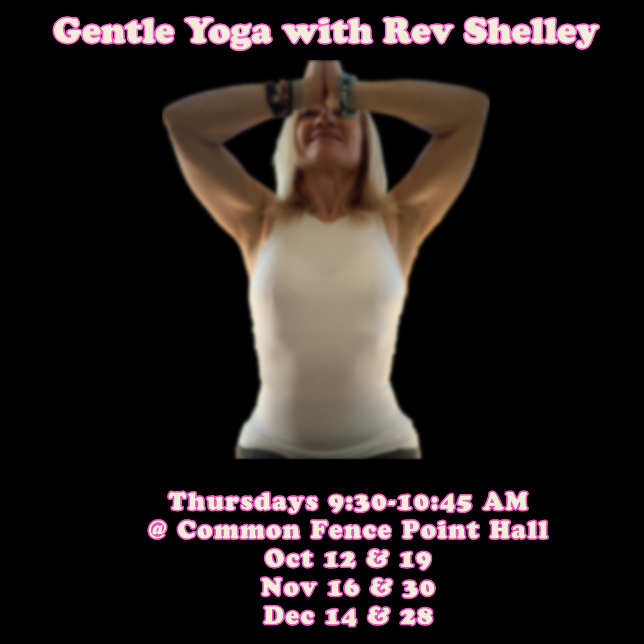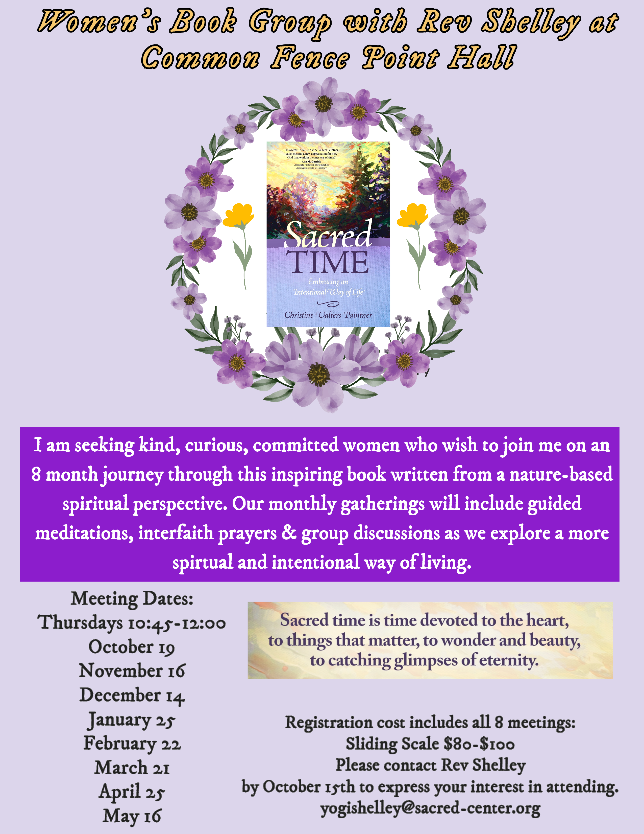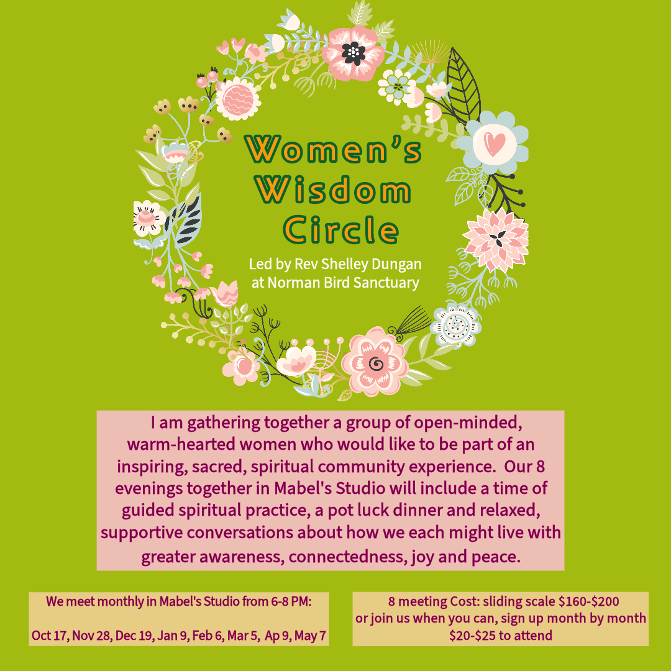 Women's Wisdom Circle - led by Rev Shelley
1 Tuesday evening each month
Would you like the chance to gather together with other open-minded, open-hearted women who are in The Sacred Center yoga and meditation community?
~ Would you like to be introduced to some contemplative spiritual practices you can do at home?
~ Would you enjoy some time of relaxed, uplifting conversations over a delicious pot luck dinner in historic Mabel's Studio at Norman Bird Sanctuary?
~ Would you like to receive encouragement to live your life more connected to your inner self, Nature and the qualities of love, peace and joy?
If so, you are invited to register for our October 17th Women's Wisdom Circle.
You can sign up for this monthly event as a package of 8 with a sliding scale of $160-$200 payable at our first meeting on October 17th
OR
As space permits, you can sign up as we go along, month by month, sliding scale $20-$25 payable when you arrive.
All sign ups are done through Sign Up Genius, a handy way to say you are coming and what you are bringing for the meal. This link is active and will take you to the sign up page.
I look forward to hosting these very special evenings and watching more and more of you find a sense of community.
We meet on these dates:
Oct 17
Nov 28
Dec 19
Jan 9
Feb 6
Mar 5
Ap 9
May 7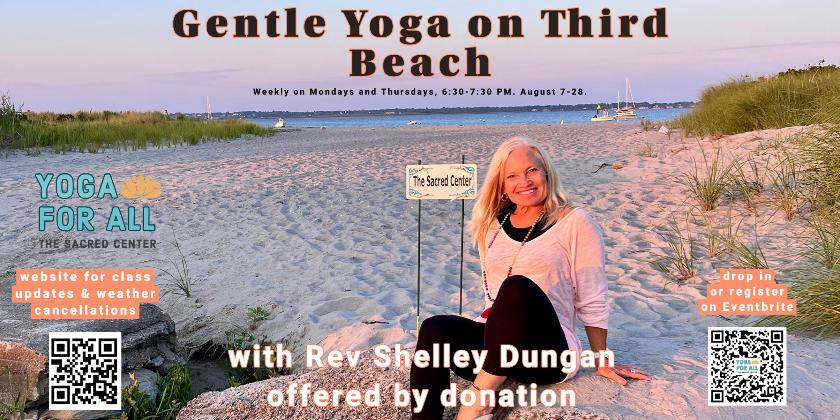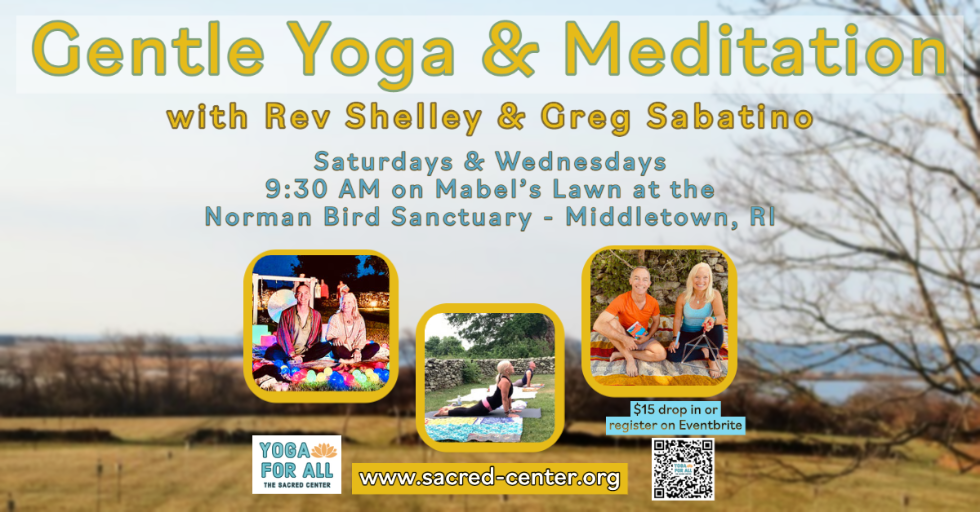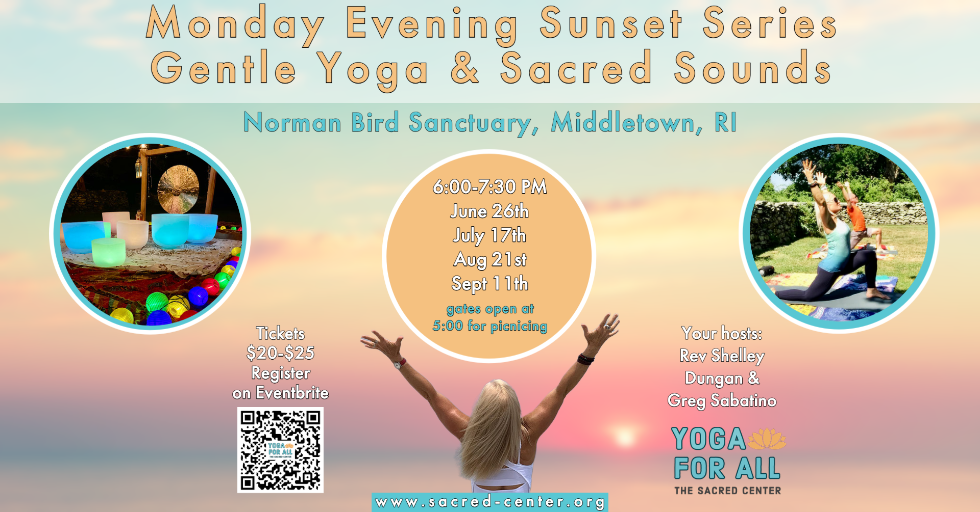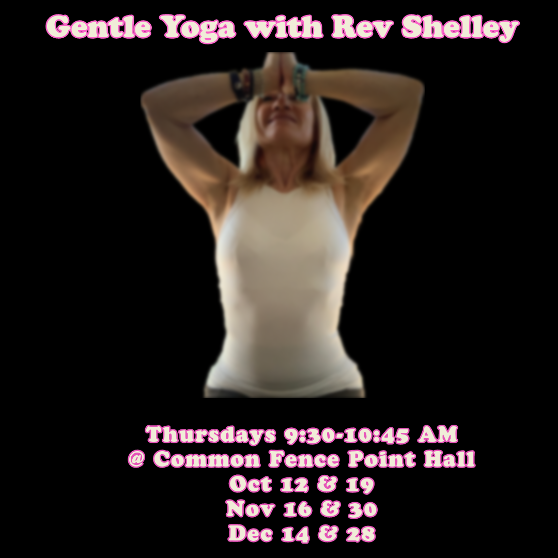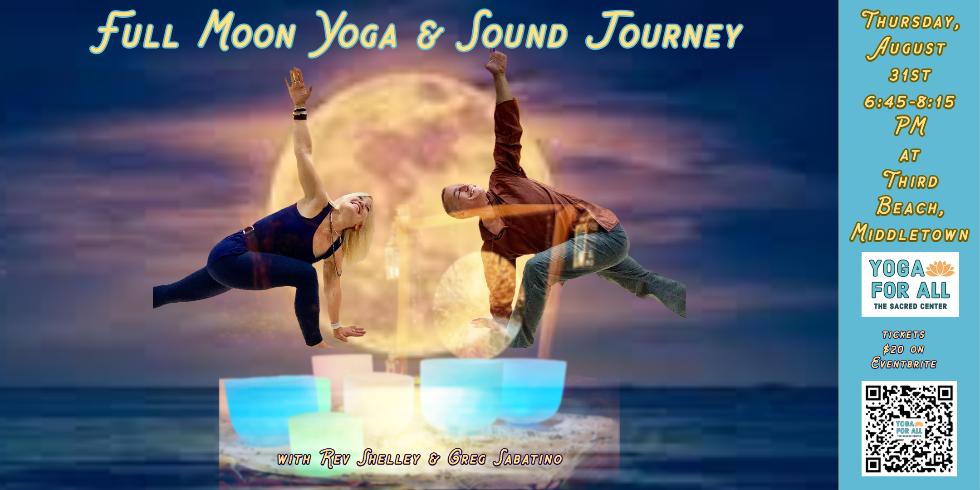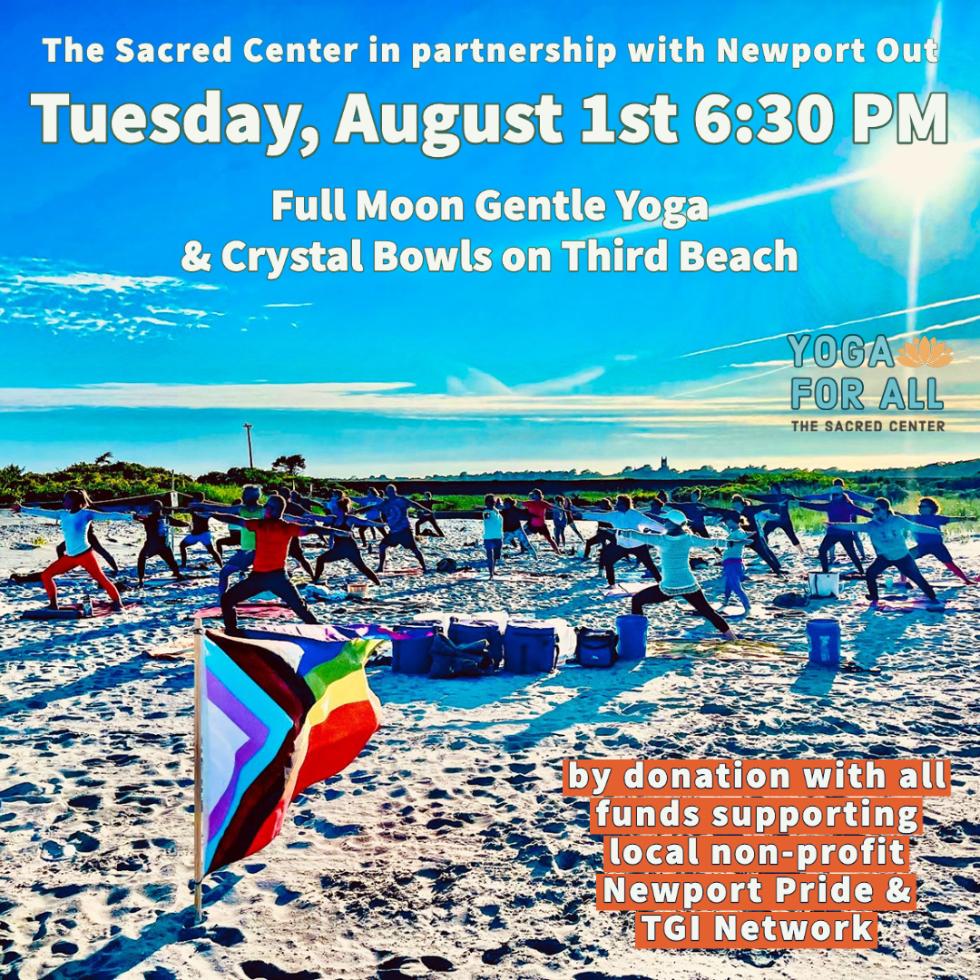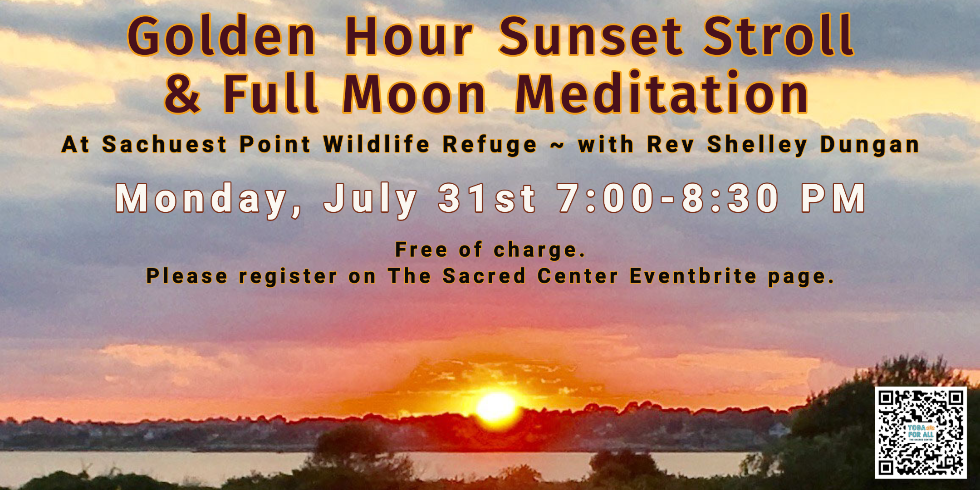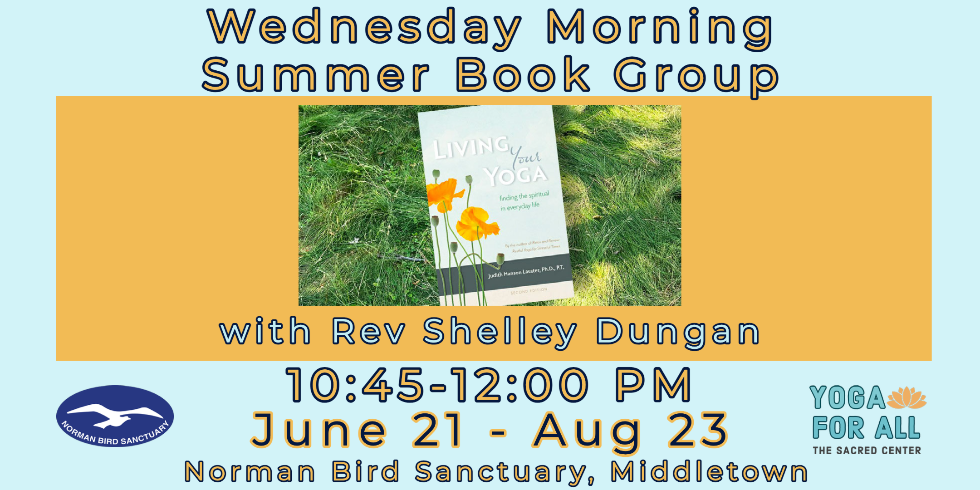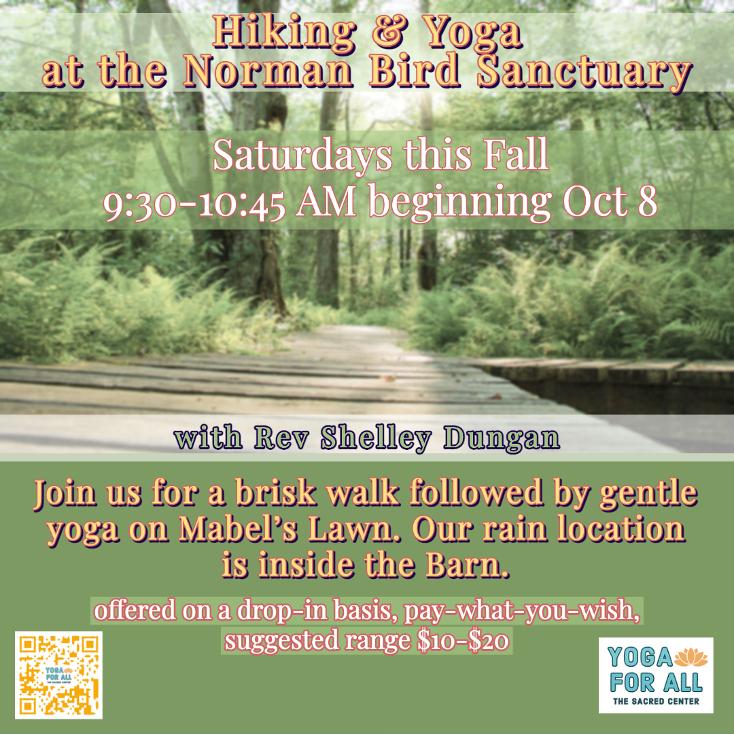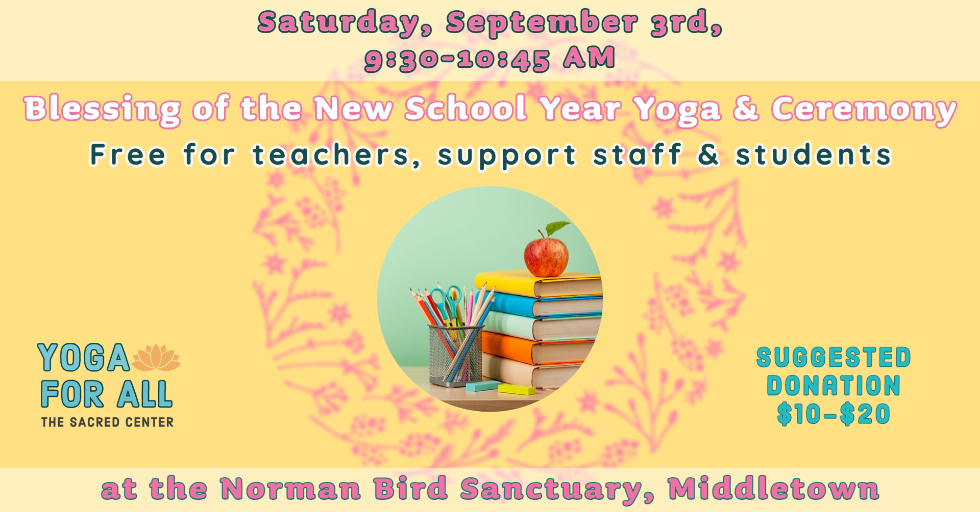 Blessing of the New School Year Yoga & Ceremony
Join Rev Shelley Dungan, Sat Sept 3rd 9:30-10:30 AM at the Norman Bird Sanctuary for a special yoga class dedicated to honoring the beginning of a new school year. This will be a gentle, all-levels yoga class that will include a blessing ritual to generate good energy and sincere prayers for the safety and well-being of teachers and students everywhere. If you are a teacher, support staff or a student, please come for free. For others, there is a suggested donation range of $10-$20. No need to register, just come with a big blanket and yoga mat. There will be a mindfulness meditation class offered after yoga for those who wish to stay. Questions? Contact Rev Shelley @ yogishelley@sacred-center.org

Full Moon Yoga at the Norman Bird Sanctuary Series Dates:
Fri Sept 9th 6:30-8:00 PM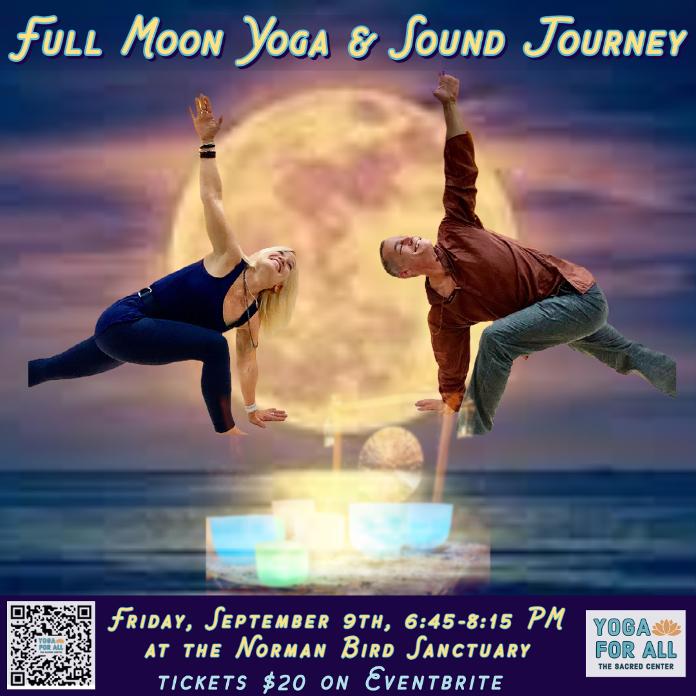 Join Interfaith Reverend & yoga teacher Shelley Dungan accompanied by scientist & musician Greg Sabatino for a wonderful outdoor contemplative experience. We will enjoy gathering on Mabel's lawn for a fire ritual, gentle yoga and a sound journey under the evening sky at the Norman Bird Sanctuary. We will stretch, breathe, relax and open ourselves to the healing and transformative influence of Mother Nature and the relaxing sounds of the crystal bowls, handpan, gongs and other sound bath instruments. Make your summer special by taking time to connect with your sacred center within. No yoga experience is needed.
Questions? yogishelley@sacred-center.org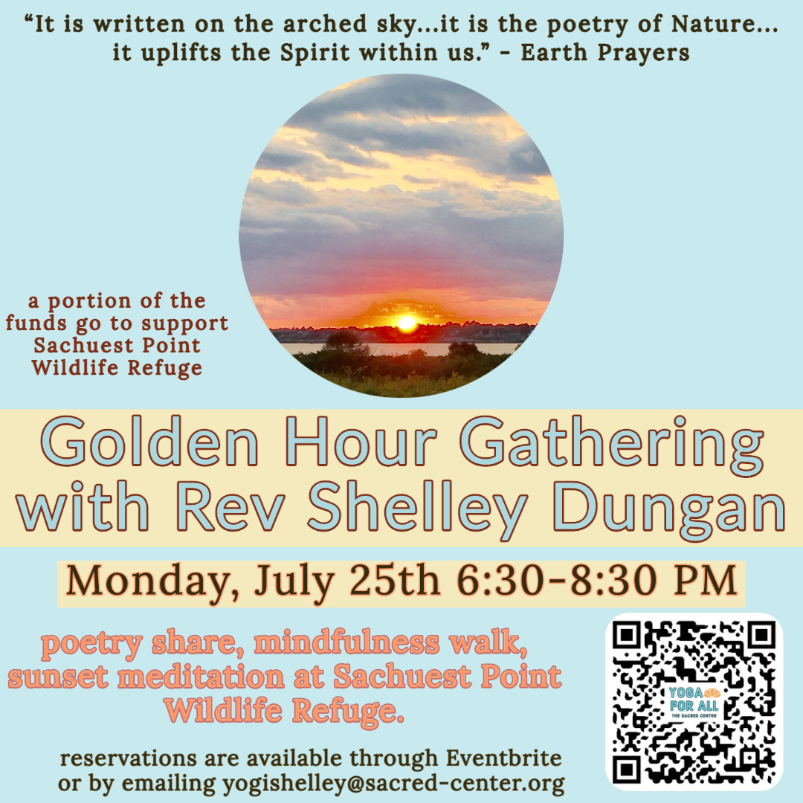 Golden Hour Gathering with Rev Shelley Dungan

Monday, July 25th 6:30-8:30 PM
Sachuest Point Wildlife Refuge, Middletown, RI
Join Interfaith Reverend Shelley Dungan for a time of connection, contemplation, movement and meditation.
6:30-7 we will gather on the lawn in front of the visitor center and have a poetry share (feel free to bring a short nature poem or quote and a chair or blanket)
7:00-8:00 we will take a mindfulness walk around the trails with pauses along the way to take in the beauty (please wear sturdy footwear and bug spray)
8:00 we will gather back on the lawn for a sunset meditation and closing prayer.
*please note that the public restrooms close at 6:30 PM.
* you are welcome to participate in any or all 3 parts of this gathering, time your arrival accordingly.
*offered by donation, a portion of which goes to support the work of Sachuest Point Wildlife Refuge.