Soulful celebrations
& ceremonies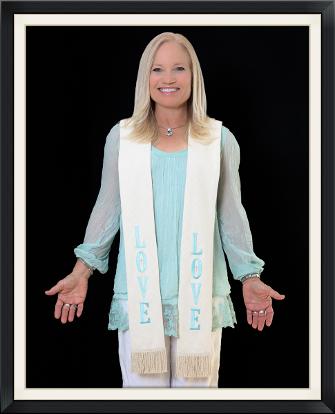 Soulful Celebrations & Ceremonies is the name of my officiating ministry. "Holding space" ... whether it's teaching Sacred Yoga or officiating a special ceremony, holding space is what I do. As an ordained Interfaith Reverend, I cherish the opportunities I am given to gather souls together to honor special moments and events on the journey of life. I serve people from all walks of life. The list below is a sampling of the services I offer. I would love the chance to speak with you to see how I can help create a unique and meaningful experience.
Officiating prices and references available upon request
CEREMONIES
Weddings
Baby blessings
Funerals
End of Life
Pet Memorials
CELEBRATIONS
Retirement
Home Blessing
Boat Christening
Divorce Completion
Coming of Age
ABOUT ME:
I am Reverend Shelley Dungan, a graduate of One Spirit Interfaith Seminary in New York City where I became an ordained Interfaith Minister. During my years as a yoga instructor, I realized that what I wanted to offer my students is a deeper level of healing by placing more emphasis on the spiritual aspect of yoga rather than physical. My belief is that the physical benefits are still gained when the emphasis is placed on the spiritual aspect but, if physical gain is the primary focus, spiritual growth is limited. This belief encouraged me to open Valley Yoga & Healing Center in Simsbury, Connecticut which reflected my philosophy of the sacred invitation that yoga offers us all.
I earned a Bachelor of Art degree in Communications from the University of New Haven, not realizing then that this coursework would serve me well much later in my life. I received my yoga instructor training at Sacred Rivers Yoga in Glastonbury CT, with further advanced studies and certifications at Kripalu Center for Yoga and Health in Stockbridge, Massachusetts. I have enjoyed training and mentoring numerous yoga teachers over the years as well. I am a Reiki Master, Healing Prayer Minister and a certified Spiritual Director .
In 2013, I sold my yoga studio and moved to Middletown, RI, happily residing near the awe-inspiring ocean and tranquil natural environments abundant on beautiful Aquidneck Island where my family and I spent the previous 15 summers.
I am the delighted mother of four grown children who continue to teach me more about myself than any other relationship in my life. With my children grown, and as Reverend Shelley, I have the honor to officiate at weddings, baby blessings and end of life celebrations. At these celebrations, and any other ceremony I am asked to officiate, my personal goal is to bring God's Love, Light & Healing to all.
As an Interfaith minister with Christian roots, my service is to couples, families, singles, seekers, those who desire to find better health, wholeness and a loving spiritual community. I minister to those who have lost their way or need to find a tribe of like-minded people seeking spiritual growth beyond the limitations of structured religion. My ministry finds its home in partnership with St. Mary's Church on their property in Portsmouth and on the shores of Third Beach, Middletown in the summer months. I offer individual spiritual mentoring, small group gatherings and prayer support and much more.
It is my life purpose to lead, guide and inspire others as we all walk the road toward wholeness together. It is also my hope to bring compassion, strength and presence to all that I do.
Peace Be With You,
Shelley